Curated by DJ Monk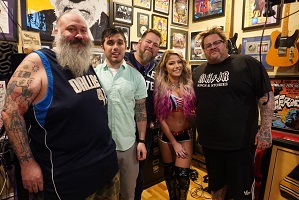 To be honest, the choice of our latest 'Video Of The Week' was something of what we believe the cool kids refer to as a "no-brainer" – although it did have some pretty stiff competition…
Wrestling and rock music have been intertwined throughout the years, to great success: you just have to listen to some of the wrestlers' entrance music, or look at the relationship between Triple H and Lemmy – or even the involvement of WWE's NXT franchise at Download every year. Now pop punk legends Bowling For Soup have teamed up with one of WWE's biggest stars to bring you the next chapter of the two worlds colliding with a fantastically catchy new single – and a hysterical video to boot. Let us elaborate…
A couple of years ago, WWE Superstar and then Raw Women's Champion Alexa Bliss revealed in an interview that Bowling For Soup were her favourite band. This led to her striking up a friendship with BFS frontman Jaret Reddick, with Alexa and the band regularly swapping social media posts and Reddick being invited as Bliss's guest to the 2018 'Royal Rumble' pay-per-view. Last year, BFS returned the favour, with Bliss being invited on stage at one of the shows on their Spring tour. Now, fast forward to last Autumn 2019 and the Soupies were in the studio, crafting riffs and melodies for their next single. The idea for what, or more importantly who, that single should be about came naturally – Alexa Bliss! With a main riff thats perhaps the heaviest in the history of Bowling For Soup, combined with frenetic verses, a chorus bigger than their home state of Texas and more references to Alexa Bliss and WWE than an episode of 'Smackdown', this is a song that will thrill fans of both BFS and the WWE and beyond. The video for the single, which partly pays homage to the 1980's movie 'Weird Science', stars none other than Little Miss Bliss herself, in a surprisingly camp cameo appearance which goes somewhat against the grain of the diminutive superstar's arrogant TV persona:
What does Alexa Bliss think about having her very own song written for her by her favourite band? Let's hear directly from Alexa herself:
"This song is amazing 🙂 filming the video was such a great time I had a blast. It's definitely a once-in-a-lifetime opportunity when your favorite band in the world makes a song about you. And Jaret is always so fun to work with and be around :-)"
Meanwhile, Jaret Reddick has been equally as enthusiastic about working with Alexa:
"Meeting Alexa Bliss was insane! Here is the freakin' WWE Women's champ, and she likes our band! I'll admit, I checked her socials after we met the first time and saw that she had worn our shirt in a photo and tweeted about listening to us in class while still in Ohio ha ha…. We became fast friends. She has been such a pleasure to get to know and has been so awesome to me and my family…why WOULDN'T I write a song about her?!? "Five feet of amazing!!!"
Bowling For Soup return to the Über Kingdom this coming week, kicking off a short run of dates at the O2 Academy in Glasgow tomorrow (Monday 10 February) and then taking in the O2 Academy in Newcastle Upon Tyne on Tuesday, the Academy in Birmingham on Wednesday, Victoria Warehouse in Manchester on Thursday and the O2 Academy in London on Friday, finishing the The Brighton Centre on Saturday (15 February). The first four shows are all sold, with limited tickets available for the final two gigs. Bowling For Soup also headline the Avalanche Stage at Download on Sunday 14 June.
A complete change of mood for our next selection, and a little piece of musical history to boot, in the form of 'Sickness', the new single from Grey Daze. For those unfamiliar with the name, Grey Daze was the band in which the late Chester Bennington first stretched his vocal muscles, before going on to join Linkin Park. The song is taken from a forthcoming album, 'Amends', being released on 10 April via Lorna Vista Recordings, and which features newly recorded music with re-mastered vocals from the group's newly uncovered and previously unreleased back catalogue, as Grey Daze founder and drummer Sean Dowdell explains: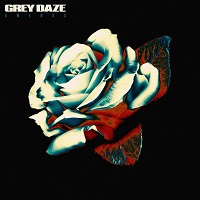 "We started Grey Daze in 1993, the band ended up breaking up in 1998. Fast forward to 2016, Chester's on the road and says, 'I think we should put Grey Daze back together'. Obviously, what happened, happened and Chester was tragically taken from us. Of course, as soon as he passed, it was like 'oh my God, I lost my friend, my friend's wife is now a widow and my friend's kids are now fatherless.' There were all of these emotions. About six or seven months later, I started some conversations and said I really want to finish this album. We're not going to accept mediocrity, we're going to do our friend proud, we're going to make Chester proud and we're going to make sure this is something he would have been elated to put out."
The album features the remaining Grey Daze members – Dowdell (drums), Mace Beyers (bass) and Cristin Davis (guitar) – along with guest contributions from the likes of Korn's Brian "Head" Welch and James "Munky" Shaffer, Paige Hamilton (Helmet), Chris Traynor (Bush, Helmet, Orange 9MM), and is being released with the full support of Bennington's widow, Talinda, and his parents.
'Sickness' is the second single to be released from 'Amends', and Dowdell explained its background:
"This is loosely based on a true story from when Chester was 15-years-old. He was being bullied at school and one day suffered a real beating. That was the day I assumed a role as protector and almost older brother figure to Chester that has lasted since, even after his passing."
To me, the song exhibits much of the pain Bennington was already feeling, even as a teenager, and is an exploration of the nascent themes he later would more fully extrapolate on 'Hybrid Theory', and autobiographical video matches the lyrical theme perfectly:
Another total change in mood, as, after months teasing with fans, Utah alt-rockers The Used this week finally announced they will release their eighth studio album, 'Heartwork', on 24 April, via Big Noise/Hassle Records. Naturally, the announcement coincided with the release of a new single, 'Paradise Lost, A Poem By John Milton'. As its title suggests, the song is influenced by one of The Used frontman Bert McCracken's favourite authors, as he explained to us:
"I've always been a bit obsessed with 'Paradise Lost'. I really dug deep into the poem and its author, John Milton. As I was reading a lot of his political essays, I realized that a lot of what 'Satan' says in Paradise Lost are quotes directly from John Milton's own mouth. A lot of people thought he was the devil back then. He had a huge problem with the show of opulence from the Church. He thought it was disgusting. His poem is about the failed revolution against the Church of England, which is Satan's failed revolution on earth. And what's more incredible or exciting than a failed revolution?"
The video itself is a nice blend of faux-gothic horror storyline and performance piece, complete with some mind-bending special effects:
The Used return to the Über Kingdom in May to play the Slam Dunk festivals in Leeds and Hatfield, with headline shows also scheduled for the Lafayette in London and Concorde 2 in Brighton.
We have two more selections for you this week, both coming from bands based on ÜR's home turf of Belfast and Northern Ireland. First up we have A 1000 Days Gone, a band we have covered in the past, most notably when the original video for their debut single, 'Fire', was banned by the snowflake internet police for allegedly promoting violence and promptly pulled by both Vimeo and YouTube (of course, we weren't afraid to stream it at the time). Well, now the quartet are back, with their second single, 'Rule No 7', which comes with a rather cool, XXX-rated animated video – and, as a highly responsible website we should warn you that it contains scenes of oral sex which some viewers may find distressing!
Normally, we include four videos in this feature, but today we have added a fifth, by special request of The Dark Queen, and it is from another hometown band whose cause we frequently have championed. And that is County Antrim power/trad metal combo Conjuring Fate, who have presented us with 'Night Of The Knives', the second single to be lifted from their UR acclaimed second album, 'Curse Of The Fallen', which actually made it into our Top Ten Albums Of The Year listing. The accompanying video starts out like a straightforward performance piece, with the band playing in a deserted barn, but soon develops into a humorous twist on the Jack The Ripper story, complete with band members Niall McGrotty and Karl Gibson in full-on period costume (which DQ reckons they pilfered from guitarist Phil Horner's wife Kym's wardrobe)… and talking of twists – you need to watch this one right to the end!