By Rich Hobson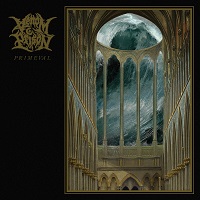 In just a few short years Venom Prison have established themselves as one of the brightest shining stars in ÜK death metal. Two stellar releases under their belt, the band have opted to send out a compilation type release to whet fans appetites for new material, re-recording tracks from their first two EPs ('Defy The Giant' and 'The Primal Chaos') as well as throwing in two brand-new songs to indicate what may lie in store for the band going forward… But first, a look back. As a re-tread of old material, there is a palpable sense that VP are applying their experience to refine and reinforce their earliest songs. But even with that, there is a rawness to 'Primeval' that (fittingly) points to a more primordial state of the band before their edges had been turned into a tight unit with a devastating arsenal.
The songs on 'Primeval' deliver the furious goods VP are known for, albeit in a more frenzied manner than many have come to expect. 'Usurper of the Throne' comes out the gates with a decidedly thrash pacing, clocking in at just under two-and-a-half minutes it figures among the shorter in Venom Prison's canon. But where the likes of 'Perpetrator Emasculation' and 'Desecration of Human Privilege' lean more heavily towards the band's hardcore influences, 'Usurper' is straight-up thrash in execution, it's deathy nastiness easily mistakable for the European extreme metal/thrash mash-ups that put the likes of Sodom and Kreator on the map.
One of 'Primeval''s most unique points is that it serves as a screenshot for Venom Prison before they'd quite worked out the composite parts of their sound that made them such a ferocious proposition. That doesn't mean there aren't hardcore-style beatdowns or death metal grooves aplenty to enjoy however; more that the shifts in style feel more chaotic, the band treading fairly close to the extreme metal umbrella whilst infusing their own sense of progression into proceedings. An impromptu cover of 'In Heaven' from the Eraserhead soundtrack rings out the final moments of 'Life Suffer', the disconnect between the rendition and the preceding three minutes' bludgeoning like a breath of fresh air in a whirlwind.
Even when applying the incredibly overdone usage of breakdowns in hardcore (and later metalcore/deathcore), Venom Prison are able to pull it off with at least some panache. The point where the song breaks out in 'Path of Exile' feels truly triumphant, and even with the exhausting lack of variety in said breakdowns across the scene, VP manage to inject some fresh life into the technique, bolstering it with some excellent rampaging riffs of their own to really up the ante. In fact, if there is one element that seems to have really benefitted from re-visiting the recordings, it would be the guitars. Shifting seamlessly between Morbid Angel, Kreator and Pantera on a single record is no easy task, but both Ash Gray and Ben Thomas take to it with some aplomb.
You can palpably feel the enormity of what Venom Prison do in songs like 'Defy The Tyrant', the snarling beast of a riff coming off like a collage of influences from Benediction to Slayer, finding the happy middle ground then setting the whole thing alight with napalm. Similarly, 'Daemon Vulagris' shakes the foundations of the earth itself with explosive riffing and a leading riff that showcases a bigger sense of what extreme metal can do – a difference measured in worlds and seen on bigger stages, hinting towards what could have been had VP managed to stay on the bill supporting Parkway Drive at Wembley.
Demos or no, the songs of 'Primeval' are an enormous pointer to just how far the band have come since their inception. Tighter, harder and even more ferocious (if such a thing is possible!), Primeval is the sound of Venom Prison re-asserting themselves at the very top of the food chain and casting off anything that would stand in the way of their producing world-class songs. The record's closing tracks 'Defiant to the Will of God' and 'Slayer of Holoferns' point to melodious inclination not yet heard within the VP core mixture, but a very welcome addition, bringing a bit of Svalbard/Rolo Tomassi vocal melody to the table to make sure the crowd have something to sing along to.
2020 – shitshow that it is – has also offered up some incredible extreme metal releases this year. From Birmingham alone the likes of Anaal Nathrakh, Benediction and Napalm Death ensured that the homefires were burning bright in the birthplace of heavy metal, but elsewhere new releases from the likes of Kaoteon, Oceans of Slumber, Thanatos and Incantation have showcased the global spread of extremity on a scale that gives the genre a vitality not felt in a long time. While 'Primeval' perhaps can't match the upmost heights reached by those other bands, it easily crushes the middling competition and adds yet another score for the band's claim to being the very best death metal band in Britain right now. Yet another Venom Prison record that most certainly lives up to the hype.
'Primeval' is out now. You can get your copy HERE.
Venom Prison are scheduled to play The Dogtooth Stage at Download on Saturday 5 June, alongside Sepultura, Obituary, Dying Fetus and more.
All content © Über Rock. Not to be reproduced in part or in whole without the express written permission of Über Rock.