By Steve Mirsik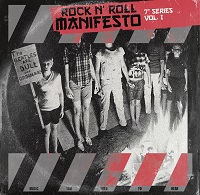 If you're looking for a perfectly curated punk rock ripper then look no further!
'Rock N' Roll Manifesto 7" Series Vol 1' is nine minutes of pedal to the metal underground greatness. The Rock N' Roll Radio Show has been taking over the airwaves thanks to Greg Lonesome for several years and he's putting together a 7" series of all the bands you need to hear! '…Volume 1' consists of hits from Tiger Touch, Fret Rattles, JJ & the Real Jerks and Missile Studs. So, let's stage dive right into this one!
Tiger Touch are a high-voltage rock band from Portland, Oregon and an excellent way to kick off this series! 'Problems' comes in hot with its driving rhythms and crunchy riffs setting the tone for what's to come.
Next up is the unbeatable 'Thanks For Nothing' by the Fret Rattles. With decades of experience from all over the punk rock scene, they're bound to be your new favorite! The intensity doesn't stop here, though! JJ and the Real Jerks hit us with 'Split Decision', which is infused with killer saxophone playing that adds a whole new dimension to their sound!
Last but certainly not least is 'Spazz Out' by the Missile Studs, which delivers quintessential punk rock that will have you thrashing around in no time at all!
Give this 7" a spin and you definitely won't regret it!
'Rock N' Roll Manifesto 7″ Series Vol 1' is out now. You can get your copy HERE.
All content © of Über Rock. Not to be reproduced in part or in whole without the express written permission of Über Rock.