By The Dark Queen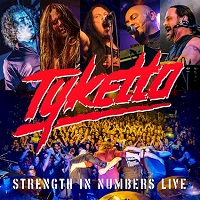 I don't need to tell anyone who actually knows me that I am a massive Tyketto fan, so when the release of 'Strength In Numbers' live album landed on the ÜRHQ desk I nabbed it, lol.  Yes, it is older material – it is marking the 25th anniversary of their second album, recorded in 1992 but not released until 1994 – but, hell yeah it totally captures the fire and energy this band still possess. They went on tour earlier this year to bring back some really classic songs, recording all of the dates and then laying down the highlights for this album.
As I said, the album captures the fire and passion this band still have live. Personally, I am not a fan of live albums, because I would rather be at the gig, but this brings back memories of the times that I have been there.  It's not the first time Tyketto have played an album in its entirety – albeit not in its original track order – and again they performed it passionately and perfectly. The mix between the stage and crowd is well balanced.
Listening to 'Inherit The Wind' just makes me feel 20 again, at a gig with the girls and dancing along with the music… wait, I am 52 now, and should an album make me feel that young? Fuck it, yeah it should, because this live recording brings back so many memories – and who am I to deny them? This recording takes the listener through the original album in the only way Tyketto know how to; but, when Danny tells his wee anniversaries story, it tugs at heart strings.
Tyketto are one of the few bands that still have the "we will play forever" ethic – and can still do it brilliantly. The way Danny can have the crowd joining in is obviously clear throughout this recording, and the rest of the band just blast through the speakers and fill the room with rhythm. This album is a mixture of different live recordings made across the UK run, and you hear references to certain cities – but it shows that all their fans are important to Tyketto.
'Rescue Me', for example, showcases the tightness between Chris Green, Greg Smith and Michael Clayton Arbeeny live, in a way not all bands can pull off.  'The Last Sunset' is the prettiest song in the collection, only to leave me 'Standing Alone'… and I can't help standing and singing along. This sums up Tyketto to the full… so, just put it on and have a wee party, as 'Strength In Numbers' tell us all that we are not alone.
'Strength In Numbers Live' is out now. You can get your copy HERE.
www.facebook.com/TykettoTheOfficial
All content © Über Rock. Not to be reproduced in part or in whole without the express written permission of Über Rock.