By Jonny Bakes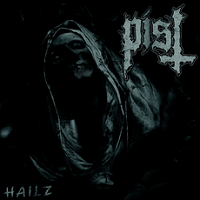 Pist are a band who have been on my radar for quite a long time now and seem to have worked their way up festival bills over the years. I'm pretty sure the first time I came across them, the guys were promoting their Bloodstock set by offering free beer (homebrew I believe)… unfortunately, I didn't make it to their set though. (so, if you're reading this lads, I'm still down for that free beer!)
So Pist have been rocking the doom/stoner scene for the last six years and already have an album and an EP under their belts (and a special repacking of those two together) where the lyrical themes have focused mostly on my favourite of activities – drinking. But now Pist are back with their latest album 'Hailz' and what appears to be a subtle change of direction, but will that please the current legion of fans of this Manchester-based band?
There certainly seems to be a real melting pot of genres going on in this album which is bound to excite many, but could ruffle the feathers who like their genres so separated that Trump would build a wall between them. For me it really works though, while there are the usual Doomy Stoner undertones that we saw on the 'Rhythm and Booze' album there also seems to be significant influence from the Black Metal genre with some riffs that would not be out of place in the dark forests of Norway.
A prime example of this is the opening track 'Ex Nihilo' which loosely translates as "out of nothing" and has that simple guitar progression and blast beat drums that you could easily mistake for Black Metal. Yet this is interspersed with slow doomy breakdowns that have basslines that are so heavy that they'd sink the Bismarck. As if that wasn't enough, there's also some passages of more upbeat Stoner riffs to further add to the variety on this track. I guess you would call this Blackened Stoner Doom, and if that isn't he already a distinct genre, I'm coining that one. And if you liked this track, it's followed by more of the same in 'Wreck'.
But then there's a surprise in the next track, 'Mind Rotter', things get a little bit more intimate with a gentle guitar riff and groovy drum track; even Dave Rowland's vocals are a little cleaner. But wait, it was just a ruse before things get heavy and Pist grab you by the balls once again for a particularly groovy number with some great heavy breakdowns. This isn't the only track that has a bit of a gentle touch though, we also have the more psychedelic sounding 'Strangle the Sun' with an unexpected guest appearance from Elephant Tree. Again, this is another track that lulls you into a false sense of security before picking right back up for some hard groovy stoner metal!
So, there you go, it looks like Pist have really pulled it out of the bag with this showcase release. I love that they have managed to subtly blacken their sound on some of the tracks whilst still maintaining that heavy stoner/doom sound that fans will know and love. There's enough variety on this album to keep the majority of metal fans happy and easily plenty to annoy your neighbors with. I'll certainly be buying myself a copy of this, and I strongly recommend that you do too!
'Hailz' is out now. You can get your copy HERE.
All content © Über Rock. Not to be reproduced in part or in whole without the express written permission of Über Rock.