By Monk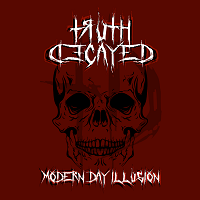 Billed as offering "a stark commentary on a world marred by decayed morals and skewed truths, where fakeness reigns supreme, adding to the ever-growing bouquet of terror plaguing a society already in turmoil", this debut two-track EP comes to us all the way from South Africa, a country re-establishing itself in recent times as a hotbed of new metal sounds. Truth Decayed may be a new name, but their collective members have many years' experience on the scene in the scene in that particular corner of the Überverse, and brought together by the need to bring something positive out of the darkness of the global lockdowns.
While their name may be new, Truth Decayed's sound certainly isn't, as it  immediately identifiable from the opening bars of the title track as old-school thrash metal of the type we have heard a million times before, and will hear again a million times more. The band's cause is not helped by a disjointed production, which doesn't bring any clarity of purpose to either of the tracks but distracts by making you strain to listen to some of the key parts – such as the all-important main riffs; a key example of this is the Ulrich-esque snappy snare sound on second track 'Opposing Direction', which overpowers the guitar work in particular. The mix on the vocals could also have benefitted from not only being higher but also a bit muddier, as any sense of aggression is lost.
Musically, the guys definitely can play, and there are some neat touches (when you can hear them) , especially in the twin guitar chops, but for the moment Truth Decayed are very much in the "work in progress" drawer of ÜRHQ's filing cabinet.
'Modern Day Illusion' is released today (23 October). You can get your copy HERE.
All content © Über Rock. Not to be reproduced in part or in whole without the express written permission of Über Rock.