While I've taken in quite a few live streams to get my music fix in the last 7.5 months I've been shielded due to the ongoing Covid-19 situation, this is the first I've actually reviewed one. I caught the Goo Goo Dolls in Manchester not so long ago and was pleasantly surprised both by some of their catalogue I wasn't otherwise aware of and the sheer uplifting atmosphere within the sweatbox of the Manchester Ritz, meaning I have something tangible to compare the live stream setting to.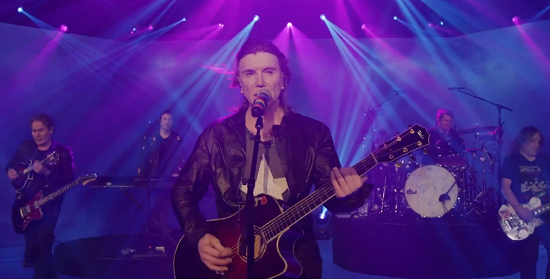 While there is no support act to get us into the right mood, there's some cheap booze and YouTube, along with an hour's preshow to get us hyped up (and boy, is the live chat hyped and up for it!), containing music videos, chat and a presenter to keep it flowing as smoothly as possible. This first hour actually passed quite quickly, between chat interactions of other excited fans and the above mentioned action, working better than I'd thought before it.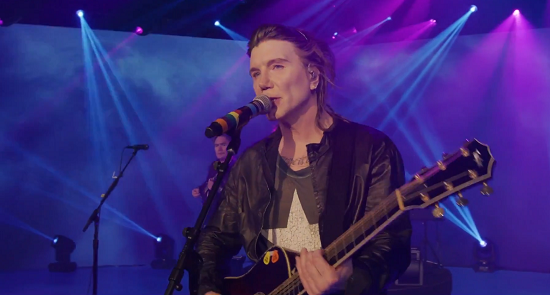 So then, to the actual set. The lighting was great and the use of the floor/staging area as an additional reflective surface to the back wall actually worked extremely well, making the area seem much larger than it possibly was and giving you something to look at beyond the band. There were three different cameras to choose from – a live stream one, curated by the production director and three others, including a drum cam which makes you appreciate how much sterling work the drummer actually puts in to this generally more laidback rock that maybe goes a bit more unnoticed.
The set spans their entire career and is well structured for big songs and dropping fan favourites, giving Robby the chance to have 2 spots on vocals with his rather more gruff approach than Johnny's and adept backing from their keyboard player. Johnny's trademark humour, that is so normal in their usual live setting, is still present in the two little chats he gives as guitars and swapped and tuned, with him even presenting an applause sign to us all 'so we know when to clap' being probably the best example – an admirable effort considering the complete lack of crowd to either bounce off or siphon energy from for his usual antics. The crowd noise being piped in feels hollow and certainly seems to echo in the otherwise empty room, but this doesn't seem to overly affect either the band or the general feel of the live stream.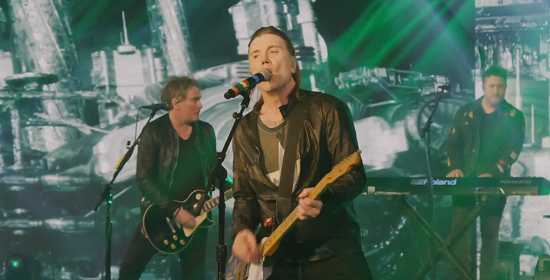 They are 'Indestructible' as they start the set off with a bang, a 'Big Machine' providing the 'Miracle Pill' that chat have seemingly been waiting for for a while. A couple of songs later, Robby gives his first turn a 'Smash' with his 'January Friend' before allowing Johnny to 'Slide' back smoothly on to vocals. Johnny does allude a couple of times to the alien feeling of playing to no discernible crowd, despite however many thousands were watching the inexpensive live stream, but apart from being a touch stiff at the start, this doesn't stop them acting 'So Alive' through the 21 song set.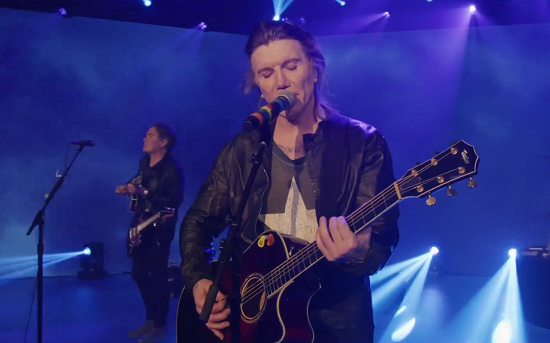 It's clear that this set in a live setting would probably take around an hour 45 minutes, allowing Johnny his time to regale the crowd between songs and such, but it's a good set that covers quite comprehensively across their full back catalogue. Johnny wants to 'Stay With You', getting 'Dizzy' for 'More Of You' as they work back to letting Robby have another turn in the spotlight. After Robby is done 'Bringing On The Light', it's time for Johnny to tell us 'You Should Be Happy' on 'Broadway', before the 'Autumn Leaves' of the evening fall and usual set closer 'Iris' leaves us definitely knowing who they are. A great set from a talented band that manage to convey enough of their usual stage energy into a soemwhat more sterile setting to make the inexpensive live stream well worth still being awak at 2am for. A Q&A after the set closes the evening, giving fans to record a video message and email it in to be answered, showing their dedication to their fan abse remains unwavered. A great evening and a longer set than I had expected.
Goo Goo Dolls release their new album, 'It's Christmas All Over' this coming Friday (30 October). You can get your copy, and loads of other Goo Goodies, HERE.
All content © Über Rock. Not to be reproduced in part or in whole without the express written permission of Über Rock.