By Monk
While there have been many negative aspects of the ongoing lockdowns, such as the absence of live gigs for the better part of the past seven months, one up side has been being able to use the extended periods of downtime to seek out new bands and new talent. One such recent discovery to come our way earlier this month was southern English metal crüe Seek Harbour and their latest single, 'Sleepless Water'. With the band also celebrating a new management deal, I took the opportunity to find out a little bit more about the four guys, their background and the challenges of getting their product out there in the midst of a pandemic.
Starting at the beginning – as that's usually a good place to start – I asked them to introduce themselves to the ÜR massive…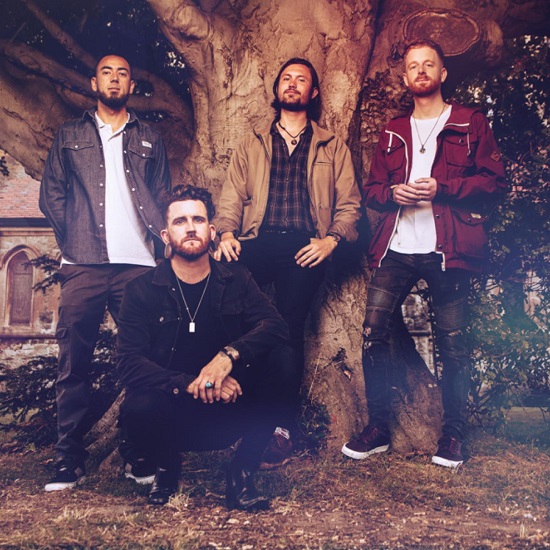 Hi guys, we are Seek Harbour, residing from a little town on the south east coast called Deal, in Kent. Thank you for the opportunity to talk to you. We consist of Edwin and Loz on vocals, Chris on guitars and programming, and me, Simon, on drums.
How did you come together as a band?
As a small town, over the years, there have been plenty of bands working the local scene. We all took part in separate projects over the years. After a few years out of bands for all of us, Chris and myself decided a new project was in order. It was just a case of finding the right components to complete the band, before we could start to write any material. But we feel we have a fantastic balance within the group.
Personally, as a historian, I have an interest in etymology, so I feel have to ask about where the band name came from and if it has any special significance…
We all like to "Seek" for an opportunity in life, so this was our chance to define a more sophisticated music project. The "Harbour" element is because we have all been brought up on the coast, so we liked the idea of having the ambition, but keeping our feet on the ground with a home influence.
Music is categorized into various genres and sub-genres. How would you define your sound?
There are several genres and sub-genres, but we class ourselves as "melodic hardcore". It all seems to be very diverse and labelled these days, but we like melody, harmony and a little bit of mosh thrown in there for good measure.
Following on from that, what individual and collective influences do you draw on for your sound?
All of us have very different backgrounds from the music we've listened to over the years. Some metal, hardcore, pop, hip hop. It has helped to define our sound, but ultimately, we like to make music and lyrical content that can relate to our experiences in life so far, then hopefully in turn, relate to our fans and listeners.
You've picked up quite a sizeable number of streams on media channels such as Spotify and YouTube in quite a short time. However, you've a relatively small following on Facebook. Do you think your followers keep coming back to your music, or that streaming media is more important in terms of getting your music out there?
For the small following that we do have on facebook, I think our fans have shown huge support in listening to and sharing our content and want to come back for more. So we are extremely grateful for that. I wouldn't say that one or the other is more important, but the streaming numbers via Spotify and YouTube has certainly overwhelmed us.
Another related follow-up: the financial returns for streaming can mean a band doing a lot of work for relatively little reward – i.e. you earn very small percentage returns, with the services themselves taking large chunks of your potential income. Is it worth the effort, or is it a fact of the business that you just have to accept?
At the moment, the financial return isn't an issue, as between us, we work in hospitality, or are self employed. We understand that cash flow is hard to come by for most right now, including ourselves within our employment sectors, so we just continue to concentrate on our music and trying to promote the band. Despite the difficulty with income, individually and collectively, we still decided it was the perfect opportunity to take the next step in our development with the help of our recent management contract with Saviour Management. It absolutely is worth the effort to keep us all on track and focused in these difficult times.
Continuing on more or less the same tack, obviously the ongoing pandemic, and continuing lockdowns, have made it extremely difficult for bands to get themselves noticed, particularly in the absence of live gigs. Have you explored other methods of generating income for the band, and other ways of marketing yourselves?
You are absolutely right, it has been very difficult to get the band out there, as it would be for all musicians. But whilst many of the world are sat at home, we see it as a perfect opportunity to get our music out to the masses as much as possible. So many people thrive on having music in their daily lives. If we can touch a percentage of those people with what we are trying to reflect in our music, that's a great thing!!
As previously mentioned, we have just signed to Saviour Management, so that is a huge step towards marketing ourselves and getting the "Seek Harbour" brand out there, so we are very grateful for the work they are putting in to help us through this pandemic.
A lot of bands have gone down the live streaming route. And a lot of them are charging their fans for watching the shows. I know there are pros and cons to "free" versus "pay per view", but as a young band I'd be interested to know if, in the current situation, it is more important for you to get your music out there than to make money out of doing so? I guess the point I'm making is "is it worth some short-term pain for long term gain"?
I think it absolutely is short time, for long time pain. We are taking the opportunity to write new material and do our bit for society. In turn, we'll be doing our part for the safety of ourselves and many others, whilst being as productive as possible, with home studio work to help create the Seek Harbour brand for the future.
I guess that's enough of the doom and gloom about financial travails, etc… As we mentioned above, you've two singles out, both of which have attracted substantial online traction. So, what can we expect next? Another single? An EP? Or a full album?
We are currently working towards a string of singles to release from spring next year, if not before. We hope they'll be a release coming up before then too! Soon. I can't reveal any dates just im afraid, so we'll have to keep the suspense. OK, now a bit of fun, and a couple of quickfire "out there" questions to give us a wee bit of an insight into your personalities:
Buckfast or Red Bull? Never heard of Buckfast I'm afraid, so I'm going Redbull
Classic Facebook or new? Hmmmm…Classic?
Twitter or Instagram? Instagram
Curry chips or gravy? Gravy all the way (Chris and Edwin might not agree, as they don't eat meat)
Salted or sweet popcorn? Bit of both if possible
After a night on the jizzy juice: pizza or kebab? Defo Piazza
Pineapple on pizza? Not for me – Loz will disagree!
Final question: when live gigs are finally up and running again, and you have your choice of any bill to be a part of, who would be the three other bands (signed or otherwise) you would choose?
Oh wow, what a question. Nevertel, The City Is Ours, Being As An Ocean. It would be amazing to share the stage with guys!
Thanks again for your time and stay safe!!
All content © Über Rock. Not to be reproduced in part or in whole without the express written permission of Über Rock.