By Jonni D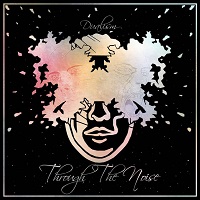 In the run-up to the release of Through The Noise's second full-length, there was recurring chatter regarding how this album would reflect a notable nü metal influence, particularly when compared to their debut album.  Although there are significant grooves that undulate beneath the surface on tracks such as 'Digital Playground' and 'House of Asterion', this claim seems to have been a tad overstated.
Rather than going whole hog on the trend that was set by Code Orange on 'Forever' and continued by Vein on 'Errorzone', the Swedes have instead looked a little closer to home and incorporated a touch of the Gothenburg sound to their signature metallic hardcore on 'Dualism'.  The slamming 'Receiver' is laced with the dual harmony fret work that defined In Flames' nineties material, while opener 'Shattered' echoes Caliban's style of European metalcore, as well as the instantaneous simplicity of Hatebreed.  Sure there are grooving elements throughout the album, but songs like 'Psychomachia' and 'Meaning Through Noise' are much more indicative of 'Dualism' as a whole in terms of straight down the line metallic hardcore with melodic death metal flourishes.
That said, the album is at its most interesting when it moves into its more ambient moments.  The sudden break in the onslaught of 'Shattered' is a genuinely effective esoteric passage, aided by the dominant clean vocals and a chorus hook that avoids feeling like a cynical attempt at accessibility.  It's further bolstered by the addition of Swedish punk Jahna Lund's guest vocals, who shows up on a number of tracks, including the equally sublime 'Secret Project'; evoking the atmospheric metalcore of Architects, but with the added skate punk influence of While She Sleeps.
Even though it's not quite what it says on the tin, 'Dualism' is a confident follow-up from Through The Noise which finds the band successfully pushing their boundaries and building on an already strong foundation.
'Dualism' is out now. You can get your copy HERE.
www.facebook.com/throughthenoiseband/
All content © Über Rock. Not to be reproduced in part or in whole without the express written permission of Über Rock.