By DJ Monk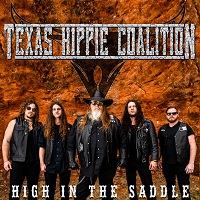 "Let me see your dirty finger in the air, let them know that the party's right here" demands Big Dad Ritch (who captains this pirate ship of bikers, outlaws, troubadours and hellraisers), adding that "we like to party and this is our drinking song". Well, when the Texas Hippie Coalition are in town – or, in this case, exploding from the ÜRHQ death decks – then you have no choice but to grab a cold one in your right hand, a bottle of cheap bourbon in the left and join in the celebrations.
Over the course of half a dozen (this is number six), the Texas Hippie Coalition (and, believe me, that middle word is definitely a severe misnomer, as there's nothing hippy-like about these five suvern bais) have developed a reputation for delivering the sort of music that can equally serve as the soundtrack to a backyard barbecue or a bar-room brawl… personally, I prefer the former scenario, especially as it means that if I spill my pint it's my own stupid fault for getting drunk on this intoxicating collection of pure bred blue collar rawk 'n' roll toons…
There's nothing fancy about what THC do, and they themselves probably make no excuse for that. It's good old-fashioned greasy suvern rock drawn from the wells of Nashville and the Bayou as much as it does those of Alabama and the Carolinas. Yep, this is pure-bred southern boogie of the finest vintage, taking the legacy of the likes of the Allman and Van Zant brothers and dragging it kicking and screaming into the 21st century, simultaneously leaving young pretenders such as Chris Robertson and Zakk Wylde lying bleeding in the fumes of the Coalition's hogs.
Big Dad Ritch will not take it as an insult if I refer to this collection as being one of pure redneck blues: he is a man who, in his own words, takes no bullshit and tells it how it is – and appreciates those who do the same. And there definitely is no bullshittin' on 'High In The Saddle': it's a straight down the line, take no prisoners, kick every ass and drink every beer in sight hard rockin' 'n' rollin' album of the sort that makes you be glad to be alive and enjoying this sort of stuff.
Now, fire up the barbie, crack me a cold one, pour me a whiskey and turn it up so loud it makes the neighbours' ears bleed… oh, and raise that dirty finger in the air 'cos the party is right here!
'High In The Saddle' is released on Friday (17 May). You can get your copy HERE.
www.facebook.com/texashippiecoalition/
All content © Über Rock. Not to be reproduced in part or in whole without the express written permission of Über Rock.