By Rich Hobson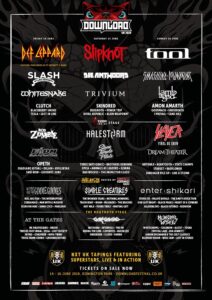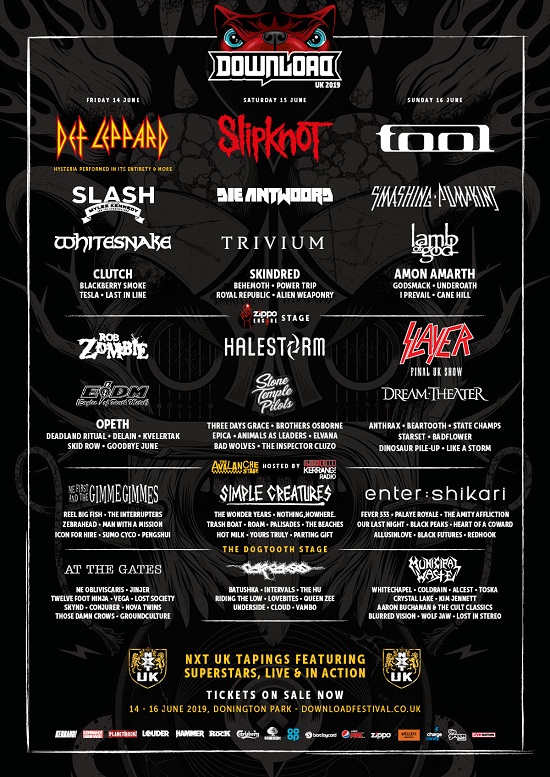 It's that time of year again, where we bust out the wellies and sun-cream (just in case!) and prepare to descend on Castle Donington for a weekend of musical greatness. Download 2019 looks set to not only feature performances by some of our world's biggest and best names, but also give a much-needed bump to some of the emergent stars of the future. With that in mind, here is the first instalment of our three-part Über Rockin' Guide to Download Festival 2019, starting by looking at what is going down across the various stages on the Friday…
It's a pretty big change of pace to kick things off for Download 2019, namely in that the festival's usual 'classic' set-up of the Sunday has been shifted to the Friday. It falls then to British rock heroes Def Leppard to start things with a bang, no doubt pumping up the crowd as they blast through the entire 'Hysteria' album (plus a few extra choice classics, no doubt!).
But, if Def Leppard aren't your thing, Rob Zombie over on the second stage will providing a very different, much heavier take on the headliner set – filling the same spot he did in 2017 when he managed to pull an even bigger crowd than headliners Biffy Clyro. But Download isn't all headliners and the undercard for 2019 promises to be as much of a draw as the main event each night…
Conjurer (Dogtooth Stage)
The heavy metal world seems to be in unison in heaping praise on Conjurer, the band's debut album making a big splash with critics and fans alike. Making their Donnington debut, many eyes will be on Conjurer to reaffirm their status as one of Britain's up and coming metal heavyweight contenders, as well as a crowning achievement at the end of the 'Mire' album cycle before the gears start turning on album #2.
FFO: Mastodon, Converge, Gojira
Clutch (Mainstage)
Clutch are the most reliable band in rock 'n' roll. Whether on record or live, you can bet the band will be bringing good times and more than a few wild-eyed choruses to the fray, making their mid-afternoon appointment on Download's main stage a guarantee of good times – especially when the likes of 'Earth Rocker', 'X-Ray Visions' and 'Gimme The Keys' get into full swing.
FFO: John Lee Hooker, Motorhead, Fu Manchu
Opeth (Zippo Encore Stage)
The modern kings of prog, Opeth boast the kind of discography which can cover haunting ballads, roaring death metal epics and transcendental prog odysseys. While that's usually better served with a longer headline set (under cover of darkness for best results), there's no denying that seeing Opeth blasting out at a more mainstream festival will stoke the fires and get us all prepared for their headline spot at Damnation this November.
FFO: Dream Theater, Gojira, Porcupine Tree
Slash & Myles Kennedy (Main Stage)
Returning after a triumphant stint as headliner last year with his other band, Slash is a perennial favourite of Donington audiences and certainly has the anthems in his back catalogue to provide a massive singalong. How much GNR material will stay in the set now he's back actively playing with that band remains to be seen, but even if he just dives into his impressive solo discography you can heads will be banging and air guitars widdling when he hits the stage.
FFO: Guns N' Roses, Aerosmith, Motorhead
Check back tomorrow for our rundown of our anticipated highlights of the Saturday!
www.facebook.com/downloadfest/
All content © Über Rock. Not to be reproduced in part or in whole without the express written permission of Über Rock.