By DJ Monk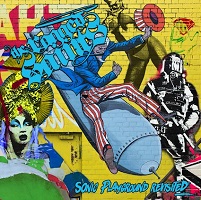 The retro sound seems to be something de rigeur at the moment, and the latest act to turn the clock back the heady days of the Eighties, when you couldn't escape rock music on the radio or TV 'cos the stations in the know actually played the fucking stuff, are Finnish glamsters The Ragged Saints, who have come storming back after an extended hiatus with this compelling new collection, just released via our friends at the ever consistent AOR Heaven label.
'Sonic Playground Revisited' sets its stall out from the off, as its creators declare that they're 'Never Gonna Let You Down': and neither they do, exploding out of the studio quicker than a bullet from a gun, aiming straight for the heart and lodging there before unleashing the first in a salvo of massive melodies, huge hooks and catchier-than-Carnovirus choruses that will worm their way straight into your aural cortexes and remain there longer than a Ceti eel (sorry, I was watching 'The Wrath Of Khan' for the umpteenth time last night and the reference sorta stuck… oops, sorry again).
It's something of a revelation to find out that this is only the band's second album in a decade, and they have been working on this one for seven of the intervening years. But, the craftsmanship that has gone into creating this opus is extremely evident: it is accomplished and polished, although not overly so, as it still contains enough grit and a sense of determination that it retains the passion of its creators for what they do – and that is deliver a damn fine collection of ten top class melodic heavy rock songs.
Regular readers will know I'm not a massive fan of ballads, but there is plenty of pacier stuff to keep even the most hardened of headbangers breaking their necks with gleeful acceptance; 'Secrets In Our Hearts' rattles along at a cracking pace, without sacrificing any of the album's overall sensibilities, as is one of the standout tracks, as well as one which inevitably open up the dancefloor in the live environment.
'Sonic Playground Revisited' is another very clear demonstration that, when it comes to producing high-quality melodic hard rock, very few do it better than the Nordic triumvirate of Finland, Norway and Sweden. Long may this continue, as if they keep producing bands and albums of this quality, then the rest of the world might as well give up any pay obeisance.
'Sonic Playground Revisited' is out now. You can get your copy HERE.
www.facebook.com/theraggedsaints
All content © Über Rock. Not to be reproduced in part or in whole without the express written permission of Über Rock.