By John Bedard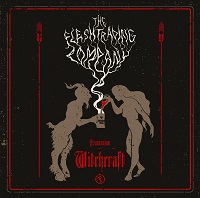 I think this album might have been written with the express goal of me liking it. This is everything that I look for in a thrash /death metal album. I just wish it was longer than an EP. It has both retro and modern elements both brought together to make an epic album that is just fun to listen too. I found myself going back to this one a lot more often than I normally do when reviewing an album. I think this album will be a hit for many people.
Kicking things off we have that old-style voice recording like you would expect from the opening monologue in the Twilight Zone or The Outer Limit. This spoken voice with that '60s microphone sound is used a couple more times over the album and really sets a nice environment for the album. There is some decent would building to set the theme of the album. With each track, you can envision the environment that the story is taking place.
Vocally, we have a very aggressive vocal fry that is perfectly executed. It is always hard to say how an aggressive vocal like this stands out above others. It is one of those things that you know when you hear it. I hear it here. This album stands out as having outstanding vocals. The distortion in his voice is very controlled and the lyrics are still very understandable which can be rare when the vocals are this aggressive. All this is complimented perfectly by the music.
The drums have that super exaggerated bass tone to them that harkens back to what you would expect from war drums in a dark fantasy movie. The guitar and bass also follow that theme being heavy and aggressive driving the sense of urgency that is inherent in the theme of the album. Also, I was very happy to hear wonderful guitar solos mixed in throughout the album. I love a good old school guitar solo and this album was definitely a treat for that.
This is a must-have EP. It is like a textbook on how you make a perfect album. Every track was wonderful. I found myself wanting to put this on all the time and I'm sure that even after this review I will still be putting this on regularly. You owe it to yourself to pick this one up. Seriously, go buy it.
'Franconian Witchcraft' is released on 7 March. You can get your copy HERE.
www.facebook.com/TheFleshTradingCompany
All content © Über Rock. Not to be reproduced in part or in whole without the express written permission of Über Rock.