By DJ Monk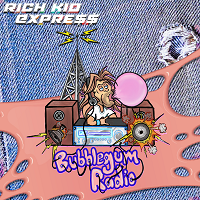 We all probably wish we could turn back the hands of time to our respective youths, and relive the period when we were growing up, without a care in world, without the hassle of mortgages, pension plans, paying for our own children's education – a time when our only concern was where our next big rock 'n' roll hit was coming from. Well, that is exactly the ethos behind this, the debut EP from a guy by the name of Rob Richardson (who may be known to old-school ÜR readers as the one time drummer in Heaven's Sake), who is seeking to recreate the era where we from the bubblegum pop of Bay City Rollers and The Sweet to the hard rock attitude of AC/DC and the Headbangers Ball playlists of da Crue, Poison, WASP and their ilk.
And, by and large, he succeeds, as 'Bubblegum Radio' lives up to its title, with five tracks of gloriously inane, old-school rock radio anthems, which echo the clean cut approach of the like of Def Leppard as they do some of their more glam/sleaze LA contemporaries, with elements of the likes of Faster Pussycat and Warrant evident on the opening duopoly of 'You Went Too Far' and 'The Way She Rolls'.  The title track winds that retro clock right back to the early Seventies, with Marc Bolan's cheeky glint virtually winking out of the speakers as it struts and swaggers around the room, sprinkling glitter dust that's gonna take a week of vacuuming to get out of the sofa!
'Just A Dog' takes things down a slightly heavier, punkier route, sort of like Iggy jamming with Gene Simmons, before Slash steps in and lays down a G'n'R cast-off solo, before 'Steamroller' closes out out in solid style: a catchy riff and a vocal that immediately grabs you and forces you to pay attention – and, yes, Rob, we're doing just that, as you've produced a damn fine wee EP that most likely will find its way onto our playlists over barbecue season (if it ever comes around)…
'Bubblegum Radio' is released on Friday (21 February). You can get your copy HERE.
www.facebook.com/richkidexpress
All content © Über Rock. Not to be reproduced in part or in whole without the express written permission of Über Rock.