By Jonni D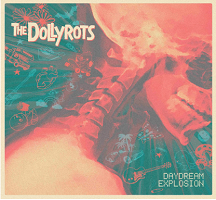 Is it still summer?  Those overbearing UV rays blistering my skin would suggest so – but that could be global warming messing with me.  Either way, Cali pop punks The Dollyrots have released a quintessential seasonal playlist in the form of their sixth LP, 'Daydream Explosion'.
'Animals' sets the stall immediately; spiky lead guitar atop layered power chords and a sugary vocal hook from Kelly Ogden is rather representative of the album as a whole, albeit with a hint of Eighties in the production style that is particularly prominent on this the opening track.  From here on it's a conveyor belt of high octane pop-infused rock tunes with mahoosive choruses.  'Everything' is a genuinely affecting ditty on growing old with the one you love, featuring notably effective backing vocals by guitarist, Luis Cabezas, and an intro that seemingly pays homage to the central riff of Green Day's 'Basketcase.' On the other hand, 'Naked' allows Kelly to evoke her more sensual side, an aspect that reoccurs on the curve ball track that is 'Flippy In My Red Dress.'  If Baz Luhrman ever decided to venture into the world of punk music, one would imagine this song to be indicative of that flamboyantly bizarre concoction; replete with it's 1930's aura and swinging back beats, it stands apart as a gem of a latter album track.
There are plenty of out and out bangers littered throughout 'Daydream Explosion.'  Kelly's husky delivery during the verses of 'In Your Face' leads into a refrain that was designed to be blasted from a speeding car's speakers with the windows down.  'Last Ones on Earth' gives off an Avril Lavigne vibe circa 'The Best Damn Thing' era, while 'I Love You Instead' sounds like super-charged Cyndi Lauper.  The band has clearly found an eternal live staple with the anthemic highlight, 'I Know How to Party' – a song that previous collaborators Bowling For Soup will be green with envy over.
Sometimes you just need an album with no ulterior motive other than sparking joy, to quote the modern-day philosopher, Marie Kondo.  'Daydream Explosion' provides oodles of the stuff, so away you go and enjoy.  Come on now, off you pop.
'Daydream Explosion' is out now. You can get your copy HERE.
www.facebook.com/thedollyrots/
All content © Über Rock. Not to be reproduced in part or in whole without the express written permission of Über Rock.