By Jonny Bakes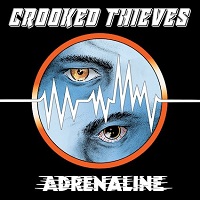 There must be something about the water in Australia (other than the fact there is probably something lurking in there trying to kill you) that gives them the ability to churn out solid hard rock bands that seem like they've stepped straight out of previous decades. I'm looking at you Airbourne and Wolfmother… Here we have a relative newcomer to the Australian hard rock scene, Crooked Thieves. After gaining significant attention across Melbourne for their energetic live shows since their debut in 2018, it is time to unleash their first EP out into the world – 'Adrenaline'.
It's certainly on the heavier side of hard rock, and it seems to take heavy influence from the 90s rock and metal scene with singer, Shane Jamieson, often compared to Eddie Vedder for his electric stage presence. But there not just elements of Pearl Jam here, you can also expect to hear influences from Black Album era Metallica and even some Silverchair thrown in to top things off.
For me, the standout feature in all the tracks on this album has to be the powerhouse drumming from Jackson Spessot. He really forms a strong backbone to every track along with his rhythm partner – Bass Player, Yelo Fink. Couple this with the catchy riffs of Nathan Watton and that electric personality of the frontman and you have yourself a pretty solid EP.
'Whatever Happens' is one of the heavier tracks on the EP where you can clearly hear the influence of Metallica. It even includes a short bass solo to really enforce that feeling of 90s-era Metallica. 'Maniac' is the first single released from this EP to give a real tease of what's to come. It's a roaring fast number with more Hetfield influenced vocals, although this doesn't quite work for me during the chorus, I'd like this to be just a bit more raw to really set this track off. Nonetheless, it is a pretty catchy song this one!
Overall though, as first EPs go, it's pretty promising! There are certainly some things that can be taken further to build into a really impressive first album, but they've certainly built a strong base to work from with 'Adrenaline'.
'Adrenaline' is out now. You can get your copy HERE.
www.facebook.com/crookedthieves/
All content © Über Rock. Not to be reproduced in part or in whole without the express written permission of Über Rock.