By Maria Glover
Near identical fabulous beards and baby brown eyes peer out from under mounds of hair and various hats, very loud and very different. This is Sheffield band Cellar Door Moon Crow, brothers Phil and Tom Goodwin, who released their latest album 'You Got This' in November last year. After triumphing at last summer's Ramblin' Man Fair, they had set their sights on the now cancelled Download festival, where they were due to appear on the Dogtooth Stage on the Friday night.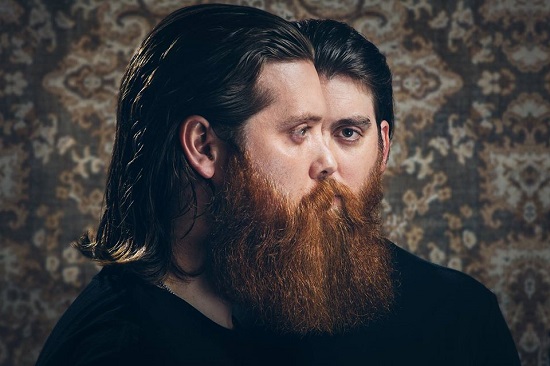 Of course, the Covid-19 changed everything… but, before the proverbial hit the fan, I had the chance to catch up with the boys for a quick chat, which was supposed to focus on that Download appearance and other (then) scheduled touring plans. We've obviously had to edit those portions of the interview out, as they, unfortunately, are no longer relevant, and so we started at the very beginning of their still burgeoning career…
I hear you've been playing since you were seven…
Two brothers, born and raised into a music life: some kids play hide 'n' seek, we played drums 'n' guitar. We were doing covers at around 14…
If you had to describe it, what's your style, ethos or sound like?
'BBC Introducing' described us as "A band fusing urban vibes and rock, like a hard hitting crazy good pile driving mash up of The White Stripes The Black Keys and The Beastie Boys". We're happy to go with that!
What are your career highlights so far?
The end of last year we released our debut album, 'You Got This', which was stocked in all HMV stores: something about a barcode made us feel professional. With that we supported Airbourne on their 14-date UK tour, which was UNREAL!
Speaking of touring, what is one of your favourite venues, and why?
Aberdeen Beach Ballroom – it's great when the venue has history, and this particular one has been home to The Beatles, Pink Floyd and The Who… beautiful interior design and the sea front bang across the road.
What inspires you most in writing music and/or lyrics?
Positivity, good vibes, family – we're all about life experience and the law of attraction.
And how does the writing process work?
We write and produce together. We have our own recording studio called Fat Elephant in Sheffield, and that's where the magic happens.
Do you have any band or individual preparations before you go on stage, to psyche you up or get you in the zone?
A mild work out to feel pumped. Stretches.  Get stuck into the rider. A cuddle. The intro music is key. Once [that's] triggered, we're bang central in the drop zone.
What's on your rider?
Oh, nothing too pretentious: good beer, whiskey, gin, fine red wine and food, just keep us fuelled… we'll do the rest.
Who do you most admire on the scene at the moment?
Jack White and his Third Man Empire – he has 100 per cent creative control in all aspects of his products. Multiple streams run in parallel, and his discipline and output is off the scale: crazy good, like insane.
What's on your tour bus playlist?
We spent a lot of time on the big drives, so we needed to keep mixing up the vibes from the late-night drives to the early morning starts. We're still on CDs in the van so we've got silver mirror coasters everywhere. We've also got some of our new ideas jammed out and knocked up, so we can spit lyrics, melodies and rhythms over the top while we're killing time on the road. The second album won't write itself and the travelling often inspires us. Touring seems to magnify all our emotions, so we try to capture that while it's raw.
Like everyone else, CDMC's touring plans for the rest of the year have been thrown into the stratosphere, so they've probably got plenty of time on their hands to concentrate on that second album. We wish them well and look forward to hearing the results (and possibly a bit earlier than initially thought, eh guys?).
www.facebook.com/cellardoormooncrow
All content © Über Rock. Not to be reproduced in part or in whole without the express written permission of Über Rock.