By Jim Rowland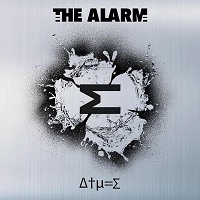 In June of last year, The Alarm released their most successful album in a long time in the shape of 'Equals', an album that charted on both sides of the Atlantic. One year and one day later, they release 'Sigma', the sequel album to 'Equals'.
At the time that 'Equals' was being put together, Alarm frontman Mike Peters had a glut of almost 30 completed songs and had originally planned to release that album as a double. Instead, it was decided to release the songs in two stages, with 'Sigma' being that second stage, so it's very much a sequel. Once again produced by George Williams, 'Sigma' picks up and carries forward the themes expressed on 'Equals', addressing the challenges Mike Peters had to face following a relapse of Leukaemia while his wife Jules was also being treated for breast cancer. Of course Mike Peters is a man who will not be beaten, and at last year's shows in support of 'Equals', the sheer joy and resilience of the man was there for all to see. That was reflected in the quality of 'Equals' and is there again in 'Sigma'.
The album kicks off in fine style, firing on all cylinders with the up tempo rocker 'Blood Red Viral Black', benefitting from guest guitar work from old friend Billy Duffy of The Cult. 'Can You Feel Me?' carries on in up tempo, anthemic fashion, whilst the likes of 'Brighter Than the Sun' and 'Time' sit back a little more with an atmospheric mix of traditional rock and electronics. 'Psalm' has a hint of old contemporaries U2 to it, whilst 'Equals', making it onto this album rather than the previous one of the same name, sees a reunion with original Alarm guitarist Dave Sharp guesting.
'Love and Understanding' is one of the standout cuts for me, a rousing up tempo battle cry with some quality gothic rock guitar work, with 'Prisoners' following a similarly rousing path. 'Heroine' is another standout, building in intensity from a soft almost Beatles-esque start to a hard hitting, big riffing crescendo. 'Armageddon In the Morning' is another very well crafted song with great guitar work giving the album a strong finish before 'Two Rivers' wraps up the whole project up nicely, reprising the original track from the 'Equals' album with different lyrics and approach.
If you enjoyed 'Equals' last year, you'll like this one just as much. Despite the trials and tribulations that both 'Equals' and 'Sigma' documents, Mike Peters marches on with genuine passion, determination and enthusiasm.
'Sigma' is released on Friday (28 June). You can get your copy HERE.
The Alarm host The Midsummer Gathering at The Great Hall, Cardiff University, on Saturday (29 June).
www.facebook.com/TheOfficialAlarm/
All content © Über Rock. Not to be reproduced in part or in whole without the express written permission of Über Rock.