This was a bit of an unexpected visit to the Dragonffli, usually a regular haunt of mine, but circumstances have prevented my regular visits.  However, this was an opportunity to pick up with a few new bands to me.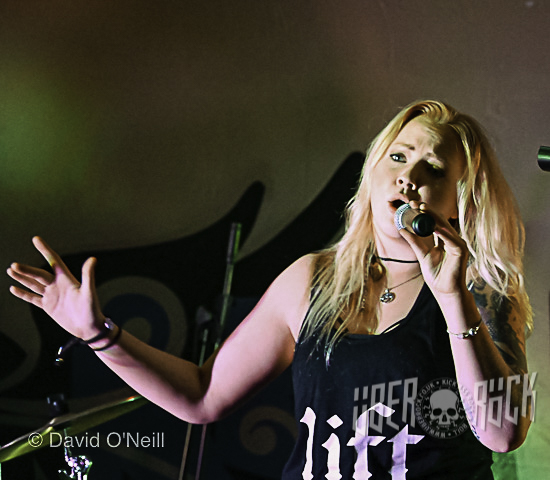 Imagine my surprise when I recognised guitarist of Jack (JD) Davies of Kane'd and Beth Blade and Sam Brain (also of Beth Blade).  The Cardiff based pair originally formed Foreigner's Son as a covers band, the addition of former No Glory! Singer Katy Davies has added an extra dimension.  The decision to start recording their own stuff is obviously paying dividends.  A 30-minute set of a variety of styles but generally of grimy blues-based rock was a pleasure to hear.  The personal tribute song of Davies to her late mother was an emotional issue for the small (but perfectly formed) crowd.  She delivers an entertaining persona to the band and the latest single, 'Bourbon Steel', summed up the performance.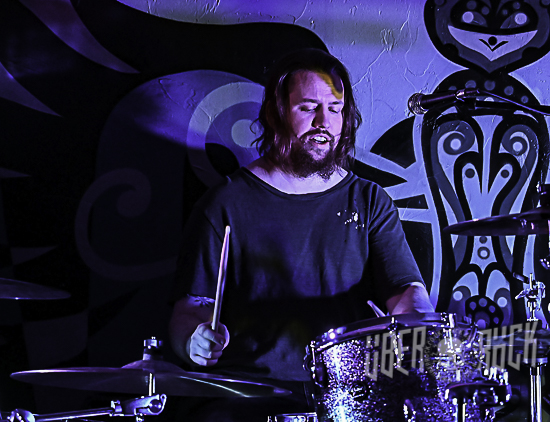 Next up was the two-piece (drum and bass) band from Cheltenham called More Human Than Human. Their socials describe their work as prog but on listening to the music of Tomislav Vucitec (bass and a set of pedals that looked like they were designed by NASA) and Anthony Collins (drums and synth) it left me in mind more of doom-prog than straight forward prog.  The insertion of George Carlin's tirade in favour of executing bankers to prevent economic collapse was very poignant given the states of the markets in the wake of COVID-19 situation.  Whilst very unusual, it was a good set that was commented on by many of the crowd.  This was topped off by the Nine Inch Nails cover, 'In This Together'.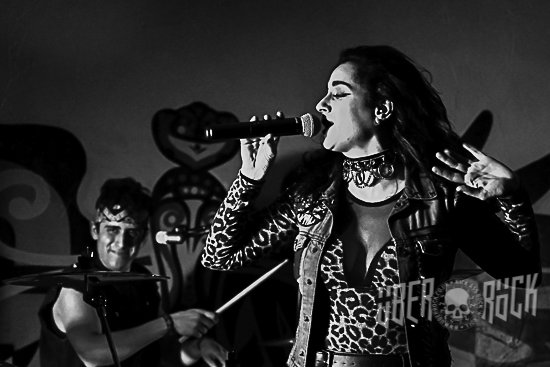 Next up were Syteria, the band formed by Girlschool guitarist Jax Chambers. The four-piece have their second album out and this tour supports its release.  The band has had a recent change of personnel after the release of the first album, 'Rant-O-Bot' and new singer Julia Calvo is an excellent addition.  The brother and sister combination on vocals and drums obviously have a connection musically as well as genetically.  The hour-long set comprised of many of the songs from both albums and the style is obviously rock, but with each track lasting just over three minutes there is the possibility of air play on various radio stations.  Supported rhythmically on the low end by the talented Steph Dawson there is plenty to listen to.
Julia's vocals are tinged with her Spanish accent, but her English is impeccable, and her range is very good.  Whilst Chambers has the pedigree, she is very magnanimous in letting the others take the limelight, which Julia does very well, prowling back and forth across the stage in between picking up guitar to play too.
If you get chance to see this band, they are well worth it and I hope they soon break through into bigger things.
Syteria play Tapestry Arts in Bradford tonight (Saturday 14 March), the King Billy Rock Bar in Northampton tomorrow (Sunday 15 March) and the Dreadnought in Bathgate on Friday (20 March).
All content © Über Rock. Not to be reproduced in part or in whole without the express written permission of Über Rock.