By Jason Walker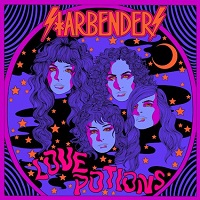 Starbenders first caught my attention during their tour supporting Alice in Chains back in 2018 after some videos popped up of their energetic live performances. Admittedly I didn't look too far into them at this point as 2018 was a bit of a rollercoaster when it came to my music tastes so a lot of music kind of fell by the wayside in favour of exploring very narrow avenues for new bands. The following year Starbenders got signed to Sumerian who happen to have a large number of bands that I listen to on a regular basis on their roster and I follow them on Instagram so by way of that I started regularly seeing clips of Starbenders and eventually built a bigger interest in them in the build up to their latest album, 'Love Potions'.
Seeing this pop up on Über Rock's albums to review list, I snapped it up straight away because the singles that they'd dropped to build the hype for this really stood out to me in the way of their modern take on a lot of classic rock 'n' roll throughout the '60s to '80s and 'Love Potions' as a whole is no different.
The album clocks in at 14 songs, which makes this quite a chunky album as it seems a lot of artists seem to be going for just over half of that in more recent trends, but this by no means that it's a particularly hard listen or a long album as each song is roughly three to four minutes in length. Leader singer and guitarist Kimi Shelter showcases a fantastic mix of guitar playing styles and vocal melodies backed by similar work from their other guitarist, Kriss Tokaji. Emily Moon on drums and Aaron Lecesne on bass form the rhythm section and their ability to bounce off each other is demonstrated fantastically on the album's second track, 'Getting Harder': it's fabulously funky and bouncy, great number to boogie to.
Another groovy track is 'Precious' because it shows off Starbenders' ability to fuse retro rock 'n' roll with modern rock styles, the shimmering guitar playing it against an airy arpeggio creates a big atmosphere before leading into a huge crescendo with Aaron's overdriven bass getting involved at the forefront. 'Holy Mother' works as a bigger call-back to the '60s, almost sounding like some of Jimi Hendrix's more rocky tracks but with all of the attitude of Joan Jett in the chorus.
Only a few songs in and you can really hear some outstanding production quality, every instrument is wonderfully well balanced and it's a treat to hear Emily's fantastic drumming style and sound be so apparent without taking the focus away from the rest of the bands melodic work. 'London' also does a fantastic job of showcasing Kimi's vocal range, a wonderfully atmospheric song that captures that often airy sort of sound from a lot of older rock which gave it its characteristic sound.
'Never Gonna Die' is a standout with it's anthemic blues rock sound that sounds like some of Shinedown's big singalong tunes, with the marching drum beat from Emily, I can see this one being a song that commands movement from audiences in their live shows. This is roughly at the halfway point through the album and so far each song has had a strong individual identity with unique hooks and words that are quite easy to pick up from the outset, it's good old solid rock right at its core but with some lovely poppy bits mixed in with it that make it an easy album to jump into at almost any point.
In the final few songs of the album, 'Down and Out' errs more towards a pop tinged sound with a bit of disco mixed in, the chorus is absolutely huge, i'd absolutely love to hear this one played live so I could get lost in it! This gets followed up with an immediately jarring start to 'Something Ain't Right' which pulls you back into the punk rock sound at the heart of Starbenders' sound. As much as it switches gears suddenly it's the right choice to shake the cobwebs off before slowing down again for the final track, 'One Of Us', which is much more melancholy than the rest of the album using bells and strings which acts as a nice, slightly somber way of wrapping up a great mix of songs.
'Love Potions', on the whole, is a pretty damn good album and does a lot to show off Starbenders' diversity in sound which has bits in it that almost any rock lover could latch onto, whether it's catchy lyrics and riffs, a punchy sound from a great rhythm section or just music that does a good job of respecting a well-trodden path while putting their own spin on it. Hopefully we'll see them on this side of the pond – I'll definitely be there for it.
'Love Potions' is out now. You can get your copy HERE.
All content © Über Rock. Not to be reproduced in part or in whole without the express written permission of Über Rock.