By DJ Monk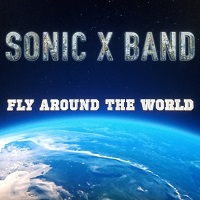 Newly stripped down to a power trio format, Sonic X have been kicking around the Canadian hard rock scene for the last 15 years, during which time they have released two full-length albums and garnered considerable airplay, which is not surprising given the extremely radio-friendly feel of this new five-track EP.
The band technically are a four-piece, but vocalist Adam Troy is on a hiatus at the moment, leaving drummer Joey Greco to take over the singing duties: now, I'll admit that I'm not familiar with their earlier output, but this doesn't seem to have been a backwards or negative move, as Greco has an extremely powerful voice, which carries well and matches the melodic AOR vibe of this mini-album.
Each of the five songs is well-crafted, and the band plough that traditional melodic rock furrow that sees them sit comfortably along almost any AOR band you care to name, as well as latter day contributors such as Alter Bridge – whom they effect most effectively on closer 'My Wonderful Life' – or, the heavens forfend, Nickelback. There are also heavy echoes, especially on the likes of the opening title track and 'Sail Alone', of another band of fellow Canucks, Triumph, although without the proggier elements of Emmett and co.
If the rumours about a certain melodic rock festival returning next year turn out to be true, Sonic X would make a great early billing. In the meantime, this is a very enjoyable and sonically soothing summation of what three very accomplished musicians can produce.
'Fly Around The World' is out now. You can get your copy HERE.
All content © Über Rock. Not to be reproduced in part or in whole without the express written permission of Über Rock.