By Monk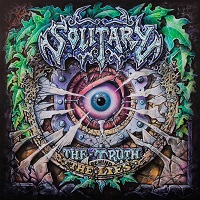 The ongoing lockdowns arising from the beer bug pandemic may well have all killed off the live music scene, both here in the Über Kingdom and across the Überverse as a whole, but that does not mean that quality music has been sparse on the ground. In fact, far from it, as 2020 has proven to be an extremely productive on many fronts, not least for bands from these 'ere islands, who have soldiered on regardless and thrown their all into producing seriously quality punk, rock and metal. Another characteristic of the year, which I have written about on several occasions, is how the "old guard" of the metal brigade have been more than holding their own against the legions of young pretenders who have come up through the ranks… which brings me neatly to this, the latest album from ÜK thrash veterans Solitary…
To say that 'The Truth…' is a huge album is something of a massive understatement. It is a HUGE, stonking muthafuckin' BEAST of an album. The sort of album that rips your head off at 250 yards then grabs you by the limbs and hurls you around the room like a distraught cow caught in a tornado. The sort of album that neither asks for nor gives no mercy, that does not tolerate any weakness or apathy on the part of either its creators or the listener.
In some ways, it's hard to believe that this is just Solitary's fifth album in their now 26-year career. But, in many others, the album makes it easier to do so, as it displays equal levels of enthusiasm and maturity: the former for what they still do, and the latter in terms of the sound that they have crafted and made their own over the past quarter of a century. The riffs and the rhythms, the melodies and the solos, all are taut and precise, with no wastage. Very much rooted in the old school of the thrash genre, the emphasis is very much on getting the job done, and with the maximum efficiency, and that is exactly what 'The Truth…' succeeds in doing, and wonderfully so, with the result that this will rank in the upper echelons of the best thrash albums you will hear this year – while leaving many other proponents of the genre cowering in the corner, shivering shells of their former selves, kept warm only by the heat generated from their burning guitars…
'The Truth Behind The Lies' is out now. You can get your copy, and other Solitary goodies, HERE.
www.facebook.com/Official.Solitary
All content © Über Rock. Not to be reproduced in part or in whole without the express written permission of Über Rock.