By Monk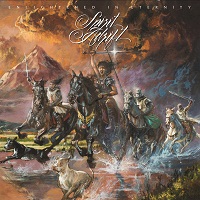 If there was band for whom it could be argued that 2020 seemed destined to be year for consolidation and building on previously established momentum, then it could well be Spirit Adrift. Not only were they riding on the back of a breakthrough album, last year's stunning 'Divided By Darkness' but they were destined to undertake not one but two ÜK tours which would undoubtedly have cemented their reputation in this particular corner of the Überverse. Said tours, first with Corrosion Of Conformity at the start of the summer and subsequently supporting Orange Goblin on the latter's planned 25th anniversary jaunt, would have book-ended the release of this, their latest album. But we all know what happened…
The aforementioned tours would have provided the most appropriate platforms possible for Nate Garrett and Marcus Bryant to present their case to UK audiences, as their raw, doom-infused heavy blues sound is a perfect fit for either/both bands with whom they would have been sharing stages. Fortunately, both treks have been rescheduled for next year, so hopefully it won't too long before we can feel the power of their sound drift over us and embrace in its warm snuggles (as DQ would say). And warm is certainly an adjective that can be aptly applied to 'Enlightened…', as it one of those albums that generates an innate heat that immediately endears itself and generates the sort of fireside feeling that all that is missing is a couple of bottles of vintage wine and the companionship of your life partner.
It's also an album that struts and swaggers with confidence, one which displays an assuredness which is almost cocky, but takes that all-important step back from the precipice of egotistical ranting, instead cajoling and teasing as it worms its way inside you with aplomb and affection in equal measure. It also is one of those albums that defines the descriptive "all killer no filler" as it is impossible to pick out one track over another as a standalone highlight, such is the consistency of the material, which flows with a natural groove from one song to the next, adding to the enthralling nature of the listening experience. And, listening to this album truly is an experience in and of itself, and one which is rewarding on every level.
'Enlightened In Eternity' is out now. You can get your copy HERE.
Spirit Adrift's rescheduled tour with Corrision Of Conformity is due to kick off in Dublin on 24 April, finishing at the O2 Institute in Birmingham on 22 May. The rescheduled Orange Goblin tour will start in Buckley on 9 December 2021 and finish at the Underworld in Camden on 18 December.
All content © Über Rock. Not to be reproduced in part or in whole without the express written permission of Über Rock.