By Jim Rowland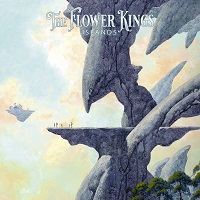 Just a year after the group's much celebrated 'Waiting For Miracles', much loved prog merchants The Flower Kings are back with a new album 'Islands'. Due to the Covid-19-pandemic, the album comes out quite a bit sooner than originally planned. With festivals and live shows obviously not possible, rather than sit on their collective backsides the band decided to plough ahead with a new album, created remotely by sending files back and forth from their different bases in the USA, Italy, Austria and Sweden, resulting in this mammoth double album of 21 songs clocking in at a huge 92 minutes.
In fact, this is a double album just on CD: if you're plumping for the vinyl version, it's a triple! And it has some great artwork from the legendary Roger Dean – no stranger to a prog album cover. The theme of the album is isolation, hence the title, as much of it circulates around themes of isolation, loss, and the fear of being disconnected. Whilst undeniably prog from start to finish, as you would expect from the Flower Kings, there's plenty of variety amongst the 21 tracks on offer which could easily be viewed as all linking together to create one 90-plus minute meandering piece.
Whilst tracks like 'Northern Lights' and 'Morning News' follow a more conventional melodic song pattern, the likes of 'Broken' and 'New Species' contain bursts of prog complexity and intricacy, with 'Journeyman', 'Hidden Angels' and 'Serpentine' heading into jazz rock territory.
As is often the case with The Flower Kings, there's always a few nods in the direction of prog legends of the past, with 'From the Ground' and especially 'Heart Of The Valley' bearing many of the hallmark sounds of Yes, and 'Solaris', one of the album's outstanding moments and the longest piece, managing to straddle prime era King Crimson and Genesis within the same track. There's also room for some fine guitar-led instrumentals such as 'Looking For Answers' and title track 'Islands'.
It all adds up to a bold, epic, sumptuous slice of pure prog that should appeal not just to fans of the Flower Kings, but to all fans of progressive rock.
'Islands' is released on Friday (30 October). You can get your copy HERE.
www.facebook.com/TheFlowerKings
All content © Über Rock. Not to be reproduced in part or in whole without the express written permission of Über Rock.