By Monk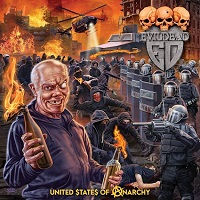 With just a few days to go until our favourite day of the year here at ÜRHQ, the annual hunt for new music to serve as our seasonal soundtrack was well under way when this little double package of two thrash albums from bands who take their names from classic horror movies plonked itself on our doormat. Being a massive fan of both Romero's 'Evil Dead' series of B flicks, and especially David Moreau and Xavier Palud's sublime Franco-Romanian collaboration 'Them', it didn't take much encouragement to get me to slip the little shiny discs into the ÜR deathdecks and turn the volume-annoying levels…
Obviously, as a long-standing thrasher, I'm familiar with both bands, as they both have been kicking around the nether regions and back alleys of the genre for quite some time – more so EvilDead, who first started breaking necks and crushing crania almost 35 years ago. Having re-united last year after a hiatus lasting for almost as long (they imploded in 1992 after just two album releases, making a brief comeback at the beginning of the last decade, albeit minus original vocalist Phil Flores), it could be argued that this, the quintet's third album, is perhaps more pertinent to another impending and potentially equally scary event, due to happen a few days after Halloween… I'm talking, of course, about the US Presidential election – and, as if its title were not enough of a giveaway, the renascent EvilDead are very much taking their cue from recent, and ongoing, events and situations in their homeland.
From Flores' opening snarl of "The clock is ticking as the human race/Becomes a time bomb" and declaration of "Every four years, rise of evil/Propaganda, deceit, betrayal/Every four years, rise of evil/The mighty dollar – not we the people", the album is jammed with railings against modern society and the influence of corrupt politicians, morally bankrupt religious "leaders" and the blind oblivion of the masses to the brainwashing to which they are subjected, via both mainstream and "social" media, on a second-by-basis.  Musically, the album is very much rooted in the old-school speed/thrash miens, with ferocious percussive beatdowns from Rob Alaniz underpinning the superb, brilliantly intertwined twin guitar work of Albert Gonzalez and Juan Garcia, who prove themselves a pairing more than capable of taking on any other in the genre.
Casting aside the heavy socio-political commentary of Flores' lyrics, 'United $tate$ Of Anarchy' is a very solid "comeback" which ticks all the appropriate boxes in every department of its delivery, all aided by an absolutely superb production which combines all the elements to full effect. Another exemplar of how the "old guard" are continuing to more than hold their own against the younger generation of acts who have taken their lead and follow in their footsteps.
'United $tate$ Of Anarchy' is released on Friday (30 October). You can get your copy HERE.
www.facebook.com/Evildead.Official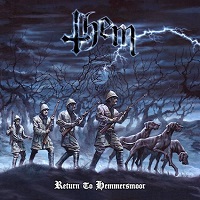 'Return To Hemmersmoor' can be seen as much more appropriate Halloween-style soundtrack. It serves as the third and final part of a story begun back in 2016 with 'Sweet Hollow' and continued on the vastly underrated 'Manor Of The Se7en Gables' two years later. Now, a further two years later, Markus Ullrich is back to complete his ambitious trilogy and complete his parable of how "good can easily mutate into evil if it's not recognized", parabolically bringing the story full circle and back to its origins (as the title suggests). But, for those not familiar with the earlier instalments, the all-important question has to be if 'Return…' stands up in its own right…
It has to be admitted that some acquaintance with the first two albums (personally, I only became familiar with the story during the second episode) may be helpful in enhancing the overall enjoyment of this cumulative segment, and it is a bit like stumbling into a mini-series as it nears its climax without being au fait with what has gone before, or missing the pivotal opening scene in certain US detective dramas… but, like all good concept works, it also stands alone, with the opening 'Deluvium' (the first of a series of not-to-be-unexpected narrated passages) providing a quick "previously on…" style update/introduction.
While very much grounded in the thrash mien, 'Return…' once again sees Ullrich and his band-mates meshing power and symphonic tropes into their musical mix: this can be a dangerous mix, with the results often falling between the two stools more embarrassingly than a drunken Englishman at a Bavarian beer fest, but Them pull it off with aplomb and panache in every department, the fast and furious rhythms more than ably complemented by the huge harmonies, massive melodies, chantalong choruses and solos capable of searing a 16oz steak just by glancing at it.
'Return…' is an elegant and eloquent album, one which mutates the musical miens upon which it draws and transforms them into a new and impressive interpretation of their respective and collective lores, presenting an entertaining listen which if it was a mini-series would definitely fall into the category of "binge-worthy". A great soundtrack for this weekend's celebrations.
'Return To Hemmersmoor' is also released on Friday (30 October). You can get your copy HERE.
www.facebook.com/thembandofficial
All content © Über Rock. Not to be reproduced in part or in whole without the express written permission of Über Rock.