By John Bedard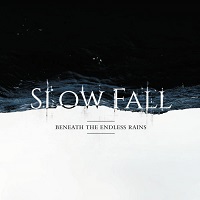 Few phrases get me more excited than "melodic death metal". As a genre, it hits so many points that I love so much. There is inherently so much power in the genre and these big transitions that just can't be beaten. There is so much emotion tied up in it and so much careful crafting that must be done to guide that emotion into what the artist is trying to make you feel. As a genre, I think melodic death metal is uniquely capable of this more than any other genre. It is also the genre that I am the pickiest about if I feel you don't deliver. So, the question is, do Slow Fall deliver with 'Beneath The Endless Rains'? Hell, yeah they do.
Vocally, this album really stands out. You have these transitions from slow soft sung vocals to heavy rock kinda like you would expect from a Breaking Benjamin style vocal all the way to that dark death metal growl we all know and love. All these styles are flawlessly merged together to create a wonderful marriage of tones that drive forward an evolution in each track building emotion and making every track a memorable experience.
Musically we have a similar story. Perfectly following and matching the tone of the vocals you have big heavy-hitting segments contrasted wonderfully by the softer more melodic segments that really help to drive the emotional response I was talking about before. Mixing an acoustic guitar into death metal is always going to get you points in my book. It creates such a beautiful contrast really selling the evolution I was talking about before. Every track has these big changes that make it feel as though you are actually doing somewhere. This makes the whole experience from track to track feel very fulfilling.
Listening to this album it is clear to me that they spent a lot of time making it right. There are no sharp edges or a lack of polish. Everything sounds exactly like I think it should. Every note sounds intentional and the whole experience very complete. There was never a moment where I thought a track went on too long and at the end of the album, I just was left wanting more. This is one you should have in your collection. I look forward to more from Slow Fall in the future because if their first full-length album is this good it will be interesting to see what they do in the future. This will be hard to top.
'Beneath The Endless Rains' is released on 23 October. You can get your copy HERE.
www.facebook.com/slowfallofficial
All content © Über Rock. Not to be reproduced in part or in whole without the express written permission of Über Rock.