By Steve Mirsik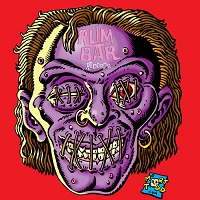 Rum Bar Records have opened up their treasure trove of talent to deliver Rocktober 2020' to the masses! This exceptional label sampler is packed with 39 high-quality tunes p'roviding something for everyone. Can you name a record label that does more to promote their artists? I don't think so! Malibu Lou has an ear for talent and that's exactly why Rum Bar Records is one of the best in the business. 'Rocktober 2020' definitely raises the bar giving you everything from rock n' roll to punk rock and even some country twang mixed in.
Each track warrants it's place on the sampler by giving you a taste of this well-rounded roster. A few stand out artists include The Shang Hi Los, Nat Freedberg, The Idolizers, Muck and the Mires, and The Dirty Truckers. However, that's just the tip of the diverse Rum Bar Records iceberg!
There's absolutely no fluff or filler, just a whole lot of rock n' roll heart and soul.
Looking for your new favorite band? Head on over to the link below and start streaming! You can also name your own price to get a high-quality download, which would certainly help out these great bands during these tough times.
Just for the record (sic), 'Rocktober 2020' features cuts from The Short Fuses, Watts, Natalie Sweet, Gallows Birds, Geoff Palmer & Lucy Ellis, The Scrimshanders, The Idolizers, The Hi-End, Mono In Stereo, Cromm Fallon, The Lemon Drop Gang, The Cheap Cassettes, The Shang Hi Los, The Distance Project, Brad Marino, Electraluxx, French Girls, Muck and the Mires, The Laissez Fairs, A Bunch of Jerks, Nat Freedberg, Jittery Jack & Amy Griffith, Stop Calling Me Frank, Spanking Charlene, Jerry Lehaine, The Hired Men, Tad Overbaugh and the Late Arrivals, The Dirty Truckers, The Real Impossibles, ZipGun Bomber, Justine and the Unclean, Indonesian Junk, Jay Allen and the Archcriminals, Hambone Skinny, Ken Fox & Knock Yourself Out, Freddie Dilevi, Bullet Proof Lovers and The Peawees
'Rocktober 2020' is out now. You can get your copy HERE.
www.facebook.com/RumBarRecords
All content © of Über Rock. Not to be reproduced in part or in whole without the express written permission of Über Rock.