By Steve Mirsik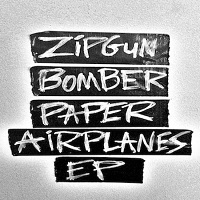 In a world where nothing seems to make sense anymore, It's comforting knowing that bands like ZipGun Bomber still exist. I pushed play on the 'Paper Airplanes EP' this morning and my pop-punk time machine instantly transported me back to the mid-Nineties! I immediately felt like my worries were melting away and things would be OK from the first chords of their hit single, 'Chase That Feeling'. Nate Doyle (vocals/guitar) has an endearing voice and style very reminiscent of early Green Day and Billie Joe Armstrong. I immediately wanted to jump up and start dancing around the living room as the songs played on!
ZipGun Bomber masters the classic pop-punk formula of super catchy percussion mixed seamlessly with raw in-your-face guitar riffs and heart-felt relatable lyrics. 'Reflections' and 'Tuesday Afternoon' reminded me of the early pop-punk scene of hundreds of teens packed into a local VFW hall on a Friday night to hang with their favorite bands. After only hearing these songs two or three times, I easily found myself singing along and grooving to each track. One of my favorite songs on the EP is the acoustic track 'Paper Airplanes'. The beautiful lyrics "We can stay inside on this rainy day / Sit around and make paper airplanes / Then we'll see how far we can get them to fly / But I don't think they'll go as far as you and I", hit me hard and instantly sealed the deal. What's not to love about that?
Whatever the future holds for all of us, I honestly hope ZipGun Bomber sticks around. The world needs more down to earth bands that can throw back to their pop-punk roots while still remaining relevant in 2020. It's very easy to get lost in nostalgia while listening to this EP and I mean that in the best way possible. ZipGun Bomber is a treasure to the music scene and this 30-something punk rocker hopes to hear more from them in the future! Make sure to check out the 'Paper Airplanes EP' available now via Rum Bar Records!
'Paper Airplanes (Revisited)' is out now. You can get your copy HERE.
All content © of Über Rock. Not to be reproduced in part or in whole without the express written permission of Über Rock.