By Tim Bolitho-Jones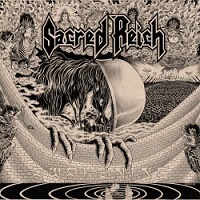 2019 is gradually turning into the year of comebacks for almost-famous thrash bands. We've already had the fantastically fun 'Bury The Pain' from Xentrix and there's the first record in 28 years from Acid Reign due in September. Perhaps the most eagerly awaited though is 'Awakening,' the long-overdue fifth album by Sacred Reich.
For those unfamiliar with the Phoenix thrashers, they were one of the more politically conscious bands of the Eighties. Defiantly left-wing, they wrote tracks about Apartheid, teenage suicide and the US invasion of Nicaragua and created two bona fide classic albums in the shape of 'Ignorance' and 'The American Way.' Despite a couple of other well-regarded records though, they never broke out in the same way that the likes of Slayer or Anthrax did and were one of the many metal casualties of the grunge era. They reformed in 2007 and have been touring sporadically ever since, but one Trump-baiting single aside, this is their first official recording since 1997. They've also got former drummer Dave McClain back in the line-up, who has spent the intervening years playing in a band called Machine Head… you might have heard of them.
Expectations are high then and it is a massive relief to say that 'Awakening' is great. It's short, clocking in at a trim 31 minutes, but in that brief half hour window they cram some terrific songs in. They wisely don't stray too far from their established formula and if you're returning to the Reich expecting fast guitars and Phil Rind's booming voice, you won't be disappointed.
The opening title track for instance is one big reassuring bear hug. Phil's vocals have only improved with age, the riffs are nice and chunky and the whole thing grooves along at an upbeat pace. 'Divide And Conquer' follows and is the first straight-up thrasher, a balls-out pit igniter with a disarmingly simple but effective chorus reminiscent of Kreator at their most anthemic.
'Salvation' slows the pace down slightly and has a very Sabbath-inflected vibe, but while things have been decent thus far, Sacred Reich really knock it out of the park with the next two songs. 'Manifest Reality' has been available online for some time so fans will already be familiar with its massive hooks, thundering power chords and life-affirming lyrics, but in the context of the full album it sounds even bigger. It's one of the longer tracks and it's hard not to envision it becoming this record's 'Death Squad.' Plus, it's followed by 'Killing Machine,' a searing depiction of modern warfare that packs some head-nodding rhythms and another mammoth chorus. This one needs to be single, it's ace.
'Death Valley' changes things up a little next. It's got a noticeable blues influence for one thing and a more moderate tempo. It's not exactly laidback but it does feel like a nice counterweight to the bruising mosh-antics of its predecessor. And almost to completely contradict it, 'Revolution' comes charging out the blocks with the intention of getting the circles spinning again. No big crowd sing-along this time, just stage diving carnage.
Rounding it all off is 'Something To Believe' which surprisingly, is the weakest cut here. It's decent enough but doesn't have the same potent fury or on-point song writing of the other tracks. It would have made a good penultimate song but as a finale it's strangely lacking and a bit of an anti-climax. That minor misfire aside though, 'Awakening' is terrific. It could have done with being one song longer perhaps but otherwise, their legacy remains intact. Welcome back lads.
'Awakening' is released on Friday (23 August). You can get your copy HERE.
Sacred Reich tour later this year, with UK and Ireland dates as follows:
Wednesday 27 November – Camden, Underworld
Friday 29 November – Newcastle Upon Tyne, Students' Union
Saturday 30 November – Glasgow, Classic Grand
Sunday 1 December – Belfast, Limelight 2
Tuesday 3 December – Dublin, Voodoo Lounge
Wednesday 4 December – Wolverhampton, KK's Steelmill
Sacred Reich will then return to the UK to play the 20th anniversary edition of Bloodstock over the weekend of 6 – 9 August 2020.
www.facebook.com/sacredreichofficial
All content © Über Rock. Not to be reproduced in part or in whole without the express written permission of Über Rock.