By John Bedard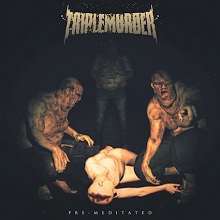 The biggest problem with this EP is quite simply that it is far too short. What we have here is a brutal album oozing with passion. Each song has a really nice evolution that keeps each song fresh and never falling into overbearing repetition. There is also a variety of styles shown off here that is great to hear. In the press information that they sent me with the album, they said that they did not want to be stuck into a specific subgenre but instead wanted to show off the musical taste of all the members of the band. This was a good call and really shows in the final product.
Because of the melding of musical influences each song takes turns that you don't really expect. It is especially noticeable with the guitar. It will go from typical death metal to like a blackened melodic and in the solos you get an almost '80s heavy metal flair while the rest of the instrumentation keeps the song gowned the whole time. There is even some late '90s in there. It is extremely well done and allows the rather short six-track album to feel much more diverse and complete.
Vocally there is little to complain about. It is heavy and aggressive without becoming hard to understand. So many bands in the genre try so hard to have the aggressive scream that they end up not playing to the strengths of their voice and instead they let the lyrics get lost. Not here. TripleMurder perfectly captures the aggressive scream without compromising the lyrics at all. The rest of the mix is well crafted around this as well. Every member of the band plays into the talents of the others very well. No one is overpowered or lost in the mix.
All in all, you will not regret this EP. It is aggressive and well done. Most importantly it is a lot of fun. I sincerely hope that 'Pre-Meditated' is the first of many we will see from TripleMurder. If this is how they debut then the future looks very good. With how much energy is poured into their music I would also be willing to bet they are worth seeing live and I hope I get the chance after this. Like I said at the beginning my biggest problem with this album is simply that I want more of it. A lot more of it.
'Pre-Meditated' is released on 20 September. You can get your copy HERE.
https://www.facebook.com/Triple.redruM/
All content © Über Rock. Not to be reproduced in part or in whole without the express written permission of Über