By DJ Monk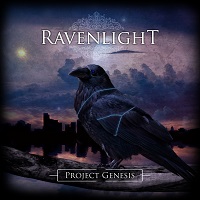 Ravenlight occupy something of a unique position in Northern Ireland, if not on the only island of Ireland as a whole, as they are the only female-fronted symphonic metal band of which I am aware in this particular corner of the Überverse. The title of this, their forthcoming debut full-length, is somewhat apposite, but also something of a misnomer, as Ravenlight are, in fact, somewhat embedded in the same scene in which they stand out, as band mastermind John Connor was also the driving force behind its immediate predecessor Selene.
As with his previous project, both Ravenlight and 'Project Genesis' are very much a labour of love for young Mr Connor, who has a reputation for precision and perfection of execution that would put a Terminator to shame (OK, sorry, it was an inevitable reference, and it's better to get it out of the way at the beginning, isn't it?). This has been proven in the band's live shows (the most recent of which was scheduled to have been ÜR's own Helfast 2020), which have to be exactly timed to the backing tapes which the band inevitably have to use to replicate the full breadth of their symphonic ambition.
To be honest, I had been dreading actually typing up this review. Why? Well, John had entrusted me with a copy of it several months back, seeking off-the-record feedback on his little baby. My main comment related to the volume of the mix I had been sent; it was just a tad on the low side, in every department, meaning it lacked just that final emphasis. John has assured me that he and his engineer have been able to find a little extra "oomph" to add to the finished product before it went to the pressing plant, which I hope helps to take it to that final level it deserves – because, to be honest, my point was a very minor quibble and one which, ultimately, did not detract from the overall joy of the listening experience.
Because, 'Project Genesis' is indeed a joyful listen. An uplifting one, in every regard, from the rich textualization of the songs, the surprisingly simple-sounding use of intricate harmonies and melodies, the use of light and shade, with crashing guitar miens complementing the delicate vocals – the eloquence of which are the true standout feature of this album.
I remember the first time I saw Rebecca performing live: she was extremely shy, clutching on to her microphone stand as if her very life depended on it and not interacting with the crowd. Her performance on all of the 11 tracks here completely and totally belies that initial fearfulness: it is one of supreme confidence, one of an artist given the room to stretch and express herself to her fullest extent; above all, it is one which belies the fact that she is so young and relatively inexperienced in this environment, as she could easily stand skirt-to-skirt with many of the major league European symphonic metal singers… and deserves to do so.
'Project Genesis' is by no means a perfect debut. It does have its flaws. And times the production is a bit on the muggy sound, at others it is a bit too clean, and some of the more orchestral overdubs could perhaps have been sacrificed in favour of a bit more ballsiness, especially on the guitars. But, this is a difficult genre for bands to master, and as such Ravenlight have presented their case with confidence and ability, and can be proud to have stamped their mark in such a competitive field.
'Project Genesis' is released on 26 June. You can get your copy HERE.
All content © Über Rock. Not to be reproduced in part or in whole without the express written permission of Über Rock.