By Monk and The Dark Queen
It is very rarely that I am stuck for words, but I have struggled for two days contemplating where to even begin introducing the spectacle that was the opening night of Queen's return to Belfast on the opening night of this, their celebratory 'Rhapsody 2022' tour. And then it hit me: there is only one word to describe what we witnessed this past Friday night… and that is "spectacle". Because, quite simply, that is what it was.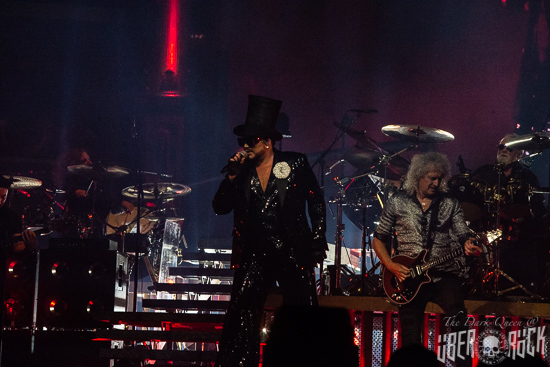 As we entered the arena, me into the posh seats and DQ into the photo pit, the sense of anticipation was palpable, with Mexican waves and chants of "we want Queen" and "we will rock rock" rising in volume. However, 15 minutes of droning background music does somewhat dampen the excitement, and the sound of restlessness among the almost capacity crowd is audible. But, in what feels like a heartbeat, everything changes as the sound of an orchestra tuning up fills the now darkened arena and there is no 'Innuendo' as the LED screen raises to the roof… which is exactly what is about to happen as one of the most deafening roars I have heard at a rock concert in a long time greets the entrance of… well, the queen…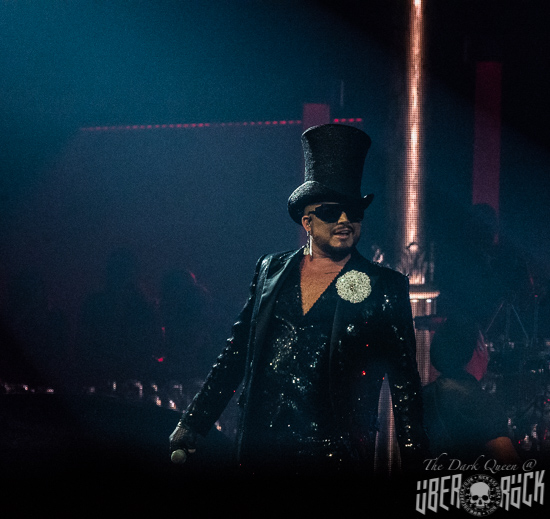 And what an entrance. Rich red curtains open to reveal Lambert's emphatic persona. Dressed in a sparkly three-piece suit and Lincoln-esque oversized top hat as he declares 'Here I Am'. And here he and the band most definitely are, with Roger Taylor sitting majestically behind his kit and Brian May bestriding and commanding the stage as imperiously as their frontman. Yes, they are definitely, and defiantly, here to 'Tear It Up'… and, boy, do they do so… and then some.
A medley of 'Seven Seas Of Rhye' and 'Keep Yourself Alive' segues into a literally thumping version of 'Hammer Will Fall' as the band power through every era of their back catalogue, mashing and mixing with snippets here and full songs there. 'Somebody To Love' slows the pace down, but does nothing to turn down the heat in the arena, which threatens to melt the ice underneath the temporary flooring, as the audience are not only singing along to every word back to Lambert but virtually taking them out his mouth.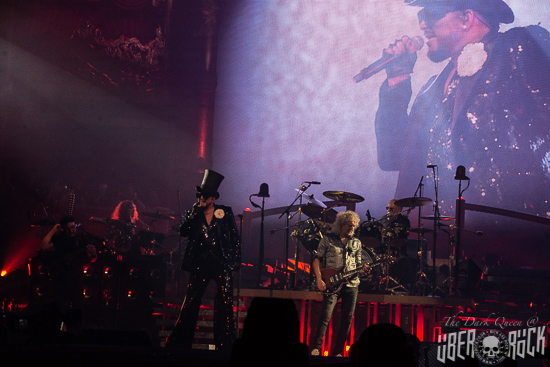 Even though Lambert is every inch the classic showman and ringmaster, he is quick to acknowledge the legacy which he has inherited, his tribute to "the two rock and roll legends on this stage" earning the first of many deserved standing ovations of the evening. He comes across as genuinely humbled to be a part of what he describes as "this opportunity to celebrate the one, the only, the irreplaceable Freddie Mercury", a role he has played for an incredible ten years now.
Lambert is not Mercury. Nor does he pretend to be. But neither is he a copycat or a tribute act. He stamps his own identity on what he does and helps reshape the modern version of Queen into a vibrant and relevant live act who lay everything on the stage and in the palms of their audiences, while simultaneously helping to bring that legacy which he celebrates to new audiences, as evidenced by the young boy, no more than ten years of age, two rows in front of us, who sings and alternately air drums and air guitars his way through every second of this magnificent two-and-a-half hour performance.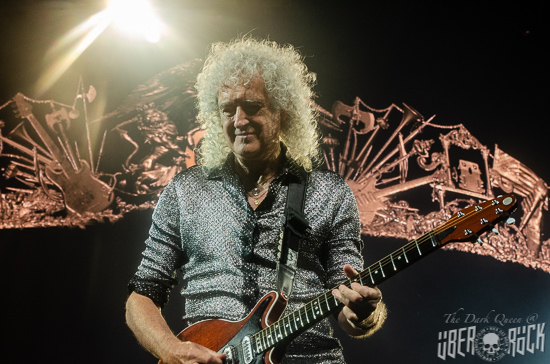 The production values are plain to see, from the sequin-draped Harley Davidson that emerges from below the stage for 'Bicycle Race' to the rainbow-coloured lasers that dance off the arena's roof during May's hugely emotional solo version of 'Love Of My Life', before the guitarist engages in an epic guitar solo, delivered some 20 feet in their air and featuring references to nearly all of Queen's big bangs.
But, of course, Freddie looms large over the proceedings as his vocal and video appearances threaten to raise the roof. His image floats on and off the screens, and touches of his voice are interjected into the starts and ends of songs in a series of cleverly choreographed AV sequences which in no way detract from the performance of his successor but also serve to cement the reason we are all here…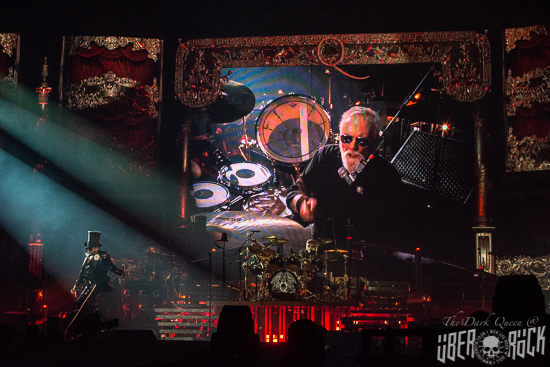 I must admit that I was somewhat sceptical going into this event, but my scepticism was very much blown away from the outset, and I came out with only one word on my lips, and that was "spectacular". And I can think of no more fitting tribute to Freddie than that…
The 'Rhapsody 2022' tour continues at Manchester's AO Arena tonight (Tuesday 31 May) and Glasgow's SSE Hydro on Thursday (2 June) and Friday (3 June). Queen + Adam Lambert then open the 'Platinum Party At The Palace' on Saturday 5 June before before playing four dates at the O2 Arena from Saturday 5 June to Thursday 9 June. They then play the Birmingham Arena on Saturday 11 June and Sunday 12 June before returning to the O2 Arena for a further six nights, between Tuesday 14 June and Tuesday 21 June.
PHOTO CREDIT: All photos © The Dark Queen/Über Rock. You can view our full gallery of photographs HERE.
All content © Über Rock. Not to be reproduced in part or in whole without the express written permission of Über Rock.