Words and photos by David Stewart
The Christmas bash at the Diamond Rock Club has been an annual event for the venue for more than ten years now, though this being only my third year – and, to be honest, it is one except for death, destruction and impending doom, I would personally not miss, regardless of pretty much who else might be playing at other venues on the night (and there was some pretty stiff competition in the form of former Motley Crüe/Dead Daisies singer John Corabi – Ed).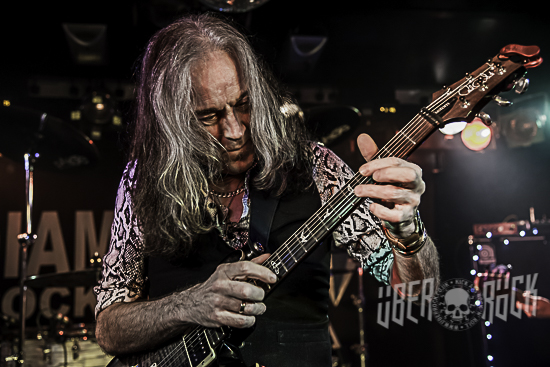 The event is held each year on the last Saturday before Christmas and the music is supplied each year by the Pat McManus Band. Pat, of course, is famous for performing on the Samantha Fox hit 'Touch Me (I Want Your Body)' as well as being guitarist for a little-known rock band called Mama's Boys.
Of course, Pat isn't on stage by himself. On bass guitar is Marty McDermott and on drums is Paul Faloon. Personally, I couldn't think of any other musicians that would be a better fit with Pat McManus as all three musicians perfectly complement each other.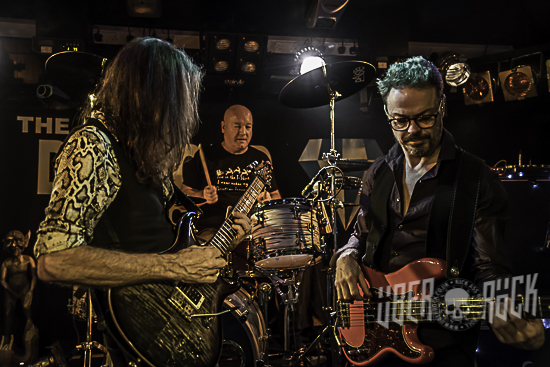 The band took to the stage a little after ten o'clock and for the next two hours played an outstanding set which included covers of the Taste's 'What's Going On', the Hendrix classic 'All Along The Watchtower', as well as the famous Gary Moore hit 'Still Got The Blues'. The band also performed songs from Pat's own personal past, including the Mama's Boys classic 'Needle In The Groove', which was always a favourite of mine from the band.
As well as the Mama's Boys classics and brilliantly performed covers, the band also played songs from their own back catalogue of hard rock and blues-inspired tracks, including a personal favourite of mine, the Scottish folk classic 'Caledonia', which Pat jokingly declared they had turned into "an Eighties-style power ballad!".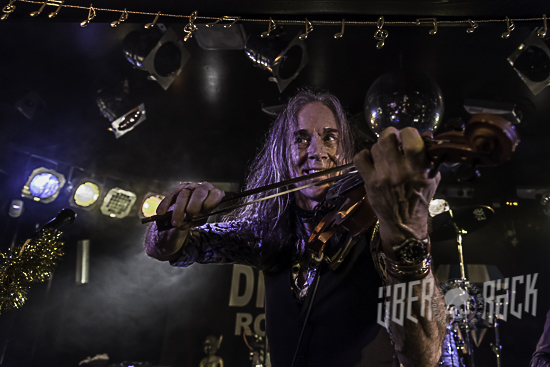 Even after all of this there was still room for the band to perform several encores, one of which being a somewhat slightly altered version on 'Sweet Home Alabama', with the location in the song being fittingly changed to Ballymena.
Playing for around two hours with a great and diverse list of material of hard rock and blues, I, as well as everyone else who was there, were certainly kept entertained by a performance that was absolutely great value for money.
Pat McManus will return to help celebrate the 14th birthday of The Diamond Rock Club on Saturday 1 February, with the All Stars show, featuring Cormac Neeson on vocals, Keith Weir of The Quireboys on piano, David Bates of Sweet Savage/Stormzone on drums and Seamy Donnelly from A Little Bitter on bass.
PHOTO CREDIT: All photos © David Stewart. You can view our full gallery of photographs HERE.
All content © Über Rock. Not to be reproduced in part or in whole without the express written permission of Über Rock.