By John Bedard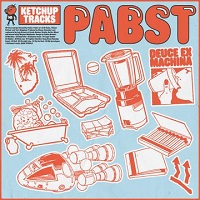 Well, I am just going to come right out and say this is one of the best albums I have had the pleasure of reviewing in a while. Maybe it just struck me at the right time, but I totally loved every second of it. There is so much energy and passion packed into an old school package without feeling old. Every track fits perfectly into whatever you are doing. Having people over for a backyard cookout? Perfect! Going out on a boat? It's a great album for that too. You can't ask for much more than that…
The musical tone is exactly what you would want and expect. The guitar has that overdriven tone with a lot of fuzz. It really sets the tone well especially with how the bass guitar is really forward in the mix and also has that heavy overdrive and fuzz applied to it making it really cut through the mix and stand out nicely. Drums once again are what you would expect for a great example of the genre. They are very present but not over the top. It all makes for a perfect balance that stays consistent throughout the whole experience with just enough variation that it never gets too repetitive.
With the vocals, once again, we have a perfect example of the genre. There is that signature vocal effect that I think they use a compressor to achieve but I am the wrong person to know the technical side of that it could just be a specific very old mic for all I know. The point is that the vocals have that tone I normally associate with the 60s to early 70s style but also modernized. It really sells that old school feeling that beats the nostalgia. Kinda like when you think back to something you loved when you were a kid but the reality does not live up to what you remembered. 'Deuce Ex Machina' is the memory in that analogy. It is what you were expecting and wanting.
I loved every second of this album. It is a good mood, good-time music and I think that you would be hard-pressed to find anyone who does not have a good time listening to this. Pick this one up. You won't regret it. It is a perfect album for the summer, assuming we still get a summer this year. Even if we remain stuck inside this is an album that will make isolation much easier. Just buy it. It is fun and you need it.
'Deuce Ex Machina' is out now. You can get your copy HERE.
All content © Über Rock. Not to be reproduced in part or in whole without the express written permission of Über Rock.