By David Stewart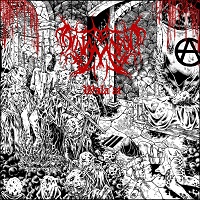 Throughout my years of being a big music fan, I have seen and heard a lot of bands that have claimed to be, and have shown to be, ballsy, controversial and/or daring. Whether it is through image, behaviour and attitude or through lyrics, the latter depending of course on the subject of the song or just the language used within the song. We have seen many controversial bands in some shape or form over the years.
Al Namrood are one such band, though they take controversy and ballsy to a whole different level. Being an anti-Islamic black metal band from Saudi Arabia they put their lives on the line for their music. The band has been together for 12 years and in that time they have never performed any live concerts and have had to record their music surreptitiously. Where they are from, the type of band that they are and with the subjects that they sing about, which primarily concern such topics as religious regimes, social injustice and oppression by authority. Because of these things the band members would be viewed as apostates, which in Saudi Arabia and under Islamic law is punishable by death. This week sees the release of their seventh full length album with 'Wala'at', which in English translates as 'Loyalties'.
The album features ten new tracks from the band and is 36 and a half minutes of brutal, heavy intensity. Mixing heavy guitar riffs with traditional Eastern instruments such as Oud, Qanun and the Darbuka, their sound mixes and gels together really well and offers something very different to the various brands of black metal that are currently out there on the market.
Al Namrood are clearly very good musicians and for a band that has to do everything in secrecy and under stressful conditions which include the self-production of their own material, you wouldn't think it as the sound and production on the album can't be faulted.
Their sound is saturated and a little distorted, but all of these things blend together for a truly unique sound. Think Rotting Christ meets mid-Nineties Darkthrone, with a Middle Eastern twist.
For those that like their music heavy and aggressive but are looking for something that is a little different from what is currently out there then you should definitely give this band and this album some attention.
'Wala'at' is out now. You can get your copy HERE.
www.facebook.com/alnamroodofficial
All content © Über Rock. Not to be reproduced in part or in whole without the express written permission of Über Rock.