By John Morrow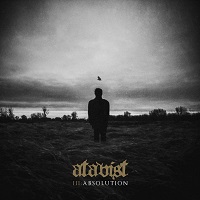 Manchester's Atavist are in their 16th year as a band, with only two full-length releases to their name that have both made substantial waves in the underground. With a sound rooted heavily in funeral doom and a whole lot of heart, they tend to speak to those who are looking for melancholy, personal music that evolves slowly through emotion. With a slow-paced, intensely heavy palette offset by strings and acoustic passages, their music becomes a journey of self-exploration, and 'III: Absolution' embodies this spirit completely.
The four songs here are a voyage through the mortal experience, a trip relatable to most that have dealt with sorrow in their lives. In the words of guitarist C. Naughton: "This is a soundtrack that travels through the depths of human emotion, from losing everything, mourning loss, realising your own mind, right through to finding your way again, ultimately finding absolution at the end of that journey".
Opener 'Loss' is aptly named and coursing with emotion. Stirring lightly from a haunting guitar melody that is hugged ever-so-gently by the addition of swelling violin, it grows into crushing riffs and passionate vocals that refuse to allow any recourse. Just when it feels as though there's no climbing out of this pit, we get pulled up by willing fingers to more quietude and the inclusion of Jo Quail's emotive and stirring cello, only to be pushed right back into the morose depths once again. From here, the listener is ebbed from one wave of feeling to another, all shaped by the bleak distortion, desolate synths, and the band working towards the apex of heartache and woe.
'Struggle' lacks the subtlety of its predecessor to convey the difficulty with coming to terms with loss and the repercussions thereof. There is a complete absence of light here, exactly like the oppressive feeling that there is no way to reverse what has happened. The guitars are huge and intensely powerful, slower than mountains forming and leaving no breathing room whatsoever. The vocals, as cold and distant as they are, are the only humanity to cling to, but we're left sparse and bereft by the end of it all, regardless.
This brings us to 'Self-Realisation' where the listener might assume that we are about to finally be helped out of the darkness, but looking inward to explore ourselves is never clean-cut and easy (in fact, quite the opposite). The barrage of intense overall sound and claustrophobic passion from 'Struggle' is brought back to the fore, but whereas we had no way out in that song, the progression here (especially with the epic tolling bell) fights through the inner struggle to give the slightest glimmer of hope.
Just shy of 18 minutes, the album-closer and title track lives up to the name and the end of a tumultuous journey (within a journey itself). Much like 'Loss', this billows up through an uneasy atmosphere to more immense funeral doom that unravels through melody and lyrical beauty to a place where we can finally breathe again and find ourselves, as uncomfortable as it is when confronted by who we are, stripped of masks or disguises.
'III: Absolution' is Atavist at the top of their game, an album of discovery and defeat that might well open up wounds long forgotten by the listener, but Naughton tells us what we already know as human beings: "There is no joy here, only relief at the end of an arduous voyage" – no joy indeed, but the journey is one of cleansing, not healing, a devout self-awareness that will reveal so very much. Find somewhere comfortable, turn out the lights, put on some headphones, and play this as loud as possible, because it deserves to be experienced.
'III: Absolution' is out now. You can get your copy HERE.
All content © Über Rock. Not to be reproduced in part or in whole without the express written permission of Über Rock.