By Rich Hobson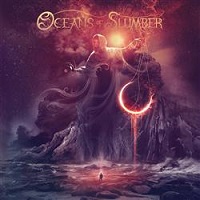 Almost a full decade on from formation, Oceans of Slumber barely resemble the Mastodon-tinged riffers from Houston all those years ago. That's not just hyperbole – the only member that remains of the initial line-up is drummer (and creative engine) Dobber Beverly, the band having transformed over the years into the prog-doom tour de force most fans will now be familiar with. A big part of that change can be attributed to vocalist Cammie Gilbert who joined in 2014, lending extra vocal gravitas to the band's sound, ultimately pushing them further from the sludgier territories they had initially plied and more towards a classic doom sound.
The results speak from themselves; signing with Century Media a year after Gilbert joined, the band have since earned international recognition for their expansive collision of styles and genres. Taking elements of prog and death metal and putting it into the doom pot has made Oceans of Slumber a powerful proposition to behold, able to hold their own on the road alongside the likes of Myrkur, Epica, Swallow The Sun and Insomnium in recent years, winning over crowds wherever they go.
And so we arrive at 'Oceans of Slumber', the third record with Cammie Gilbert in the vocal spot; fourth overall. Fans of the band up to this point should by now know more or less exactly what they are getting (an odd proposition for a prog band, but often true nonetheless), this being less a reinvention of the band than a reaffirmation of everything they have been and done this past decade. The nimble guitarwork of Jessie Santos and Alexander Lucian evokes the ethereal stirrings of early-90s Anathema or millennial Opeth records (the latter particularly prevalent in the incredible power of the band's death metal sections) while Dobber's utterly cacophonous drumming can lock in with bassist Semir Ozerkan to approximate the devastation of early death metal. Yet, amidst these disparate elements, Oceans of Slumber have a strong enough sonic identity that these ingredients don't overpower the band's own unmistakable sound.
Its been a steady road of progression, but over time Oceans of Slumber have undoubtedly leaned harder into the death/doom avenues of their sound than the initial prog stirrings of 'Winter' and now come into full fruition. On Their sound is at once beautiful and haunting; clear and brittle like a ghost apple on a withered branch in the deepest throes of winter. But then comes fire. 'Soundtrack to My Last Day' and 'Pray For Fire' are antithetical extremes; the former harkening to the chilling bite of winter, the latter (as its title suggests) suggesting embers and powerful jets immolating the soul. These tonal shifts are a characteristic trait of Oceans of Slumber as a whole, the band able to completely turn on a dime to become something entirely different whilst still retaining the overall shape and direction of a record. This isn't a kitchen-sink approach; rather the band exercise a sense of creative direction to keep the listener on their toes, a melodic opening section giving way to the grand 'Imperfect Divinity' to break the record up. Opening with decidedly synthwave-tinged notes from keyboardist Mat V. Aleman, the track builds out to an odd, gentle melody that doesn't feel entirely removed from the likes of 'The Dance of the Sugar Plum Fairy' – not every day you'll hear that in a metal record, that's for sure.
Brace yourself for impact as 'The Adorned Fathomless Creation' hits, the lumbering death metal intro to the song a furious change of pace that reminds listeners of Oceans of Slumber's vast repertoire of styles. After all, while the band may most often be associated with their more melancholic, melodic sides, the fact remains their extreme metal prowess is by no means negated. Rather, each element works in tandem to create a more stunning whole; the meatier riffs and snarls highlighting how strong the flavour of each melody is within a song. This even works when shifting between songs – the easing back into melody of 'To The Sea' feels especially potent after the predecessor's bludgeoning, with Gilberts vocals reaching a particularly powerful and emotional apex at this point in the record. Again this is complemented by the follow-up; 'The Colors of Grace' harkens back to the band's proggier leanings of the past, the instrumentation not a million miles from the melancholia of Pain of Salvation's 'In The Passing Light Of Day'.
Admittedly, Oceans of Slumber have never been the most concise band ('The Banished Heart' runs over an hour, while 'Winter' barely drops under). Clocking in at a little over one hour 11 minutes, there is no denying 'Oceans of Slumber' is a mammoth undertaking. Certainly, by the time 'I Mourn These Yellowed Leaves' comes around you start to feel the ground stretching thinner, the preceding 40 minutes having flown by as the band produce a thrilling epic. But just when you think fatigue may begin to set in, the band reset the clock again on 'September (Those Who Come Before)', another instrumental with more than a dash of orchestral instrumentation to reset the timer. Like an encore after a thunderous main set, the remainder of Oceans of Slumber feels like a cheeky encore where we get to go nasty, particularly with the throaty rasps and anguished howls of 'Total Failure Apparatus'. Its not all snarlers mind; 'The Red Flower' brings back the melody in a big way, but it's the flawless rendition of Type O Negative's 'Wolf Moon (Including Zoanthropic Paranoia)' that should be getting all goth/doom fans weak at the knees.
Gilbert has openly stated that '[she] wanted songs that felt like anthems' for Oceans of Slumber. There's little doubt the band have achieved that – this record feels absolutely monolithic (and not just for its slightly-ponderous length), each song begging to be heard by thousands of braying fans (oh, remember those days?). It's an interesting quirk of creative juices that Oceans of Slumber at once feels like a record that could do with just a little trimming (personally, everything post 'The Colors of Grace' feels like it could have made for a stunning follow-up EP to a flawless record), but also without a dull moment or weak song. You can put this record on at any point in its run-time and dive into something very special; this is a band absolutely owning their craft, pulling out all the stops to create something iconic – setting a watermark for where expansive death/doom/prog should be aspiring for the decade to come.
'Oceans of Slumber' is released on 4 September. You can get your copy HERE.
https://www.facebook.com/oceansofslumber/
All content © Über Rock. Not to be reproduced in part or in whole without the express written permission of Über Rock.