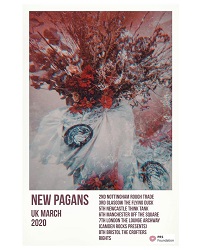 Having discovered them via the power of our 'Video of the Week' feature last weekend, I now find myself having been drawn into the New Pagans' web, after covering their album a few days' ago and now making the usual jump across to Manchester to catch them in a live setting now, too. Will the trains work with me for once? Only one way to find out!
The usual travel issues across to Manchester prevail against me again as I arrive 30 minutes later than expected, halfway through the Heavy Salad set, though it's fair to say I get into their groovy surf rock psychedelia quite quickly. Playing happy sounding songs that you can't help but like, while they are clearly getting as much into it themselves as the rest of us, shown by people in the middle of the room happily dancing away en masse through the second half of the set. While not rammed, there are a few in the room and we all appreciate the sound of an almost forgotten era, with the music built from a varied soundscape of influences yet brought into a cohesive unit by the likeable foursome. A good warm up act.
Having gotten quite interested in New Pagans over the course of the last week, I was quite eager to see how their music would translate across into a live setting, with the easy answer to that being quite well! The acoustics of the room are not incredible but are pretty decent and you do get the impression that they are having to fight that slightly at times, especially vocalist Lyndsey, who cuts a rather enigmatic figure through the set as she veers between her soft and louder sides, as she sounds quite muffled during the first track. It is, of course, the day that their EP dropped as well as being their debut headline tour, so I'm impressed at how well they have put it together at such an early stage of their career.
My pick outs from the album, in 'Charlie Has The Face Of A Saint' and 'I Could Die', work very well live, with the band doing an excellent job of recreating their recorded sound, while frontwoman Lyndsey goes between a shy, almost demure persona and that of a woman possessed, adding something more visual to a set which features the band in front of a bare brick wall and gives us something to focus on instead of the glancing between band members we are otherwise doing.
Latest single 'Admire', the track that actually brought New Pagans to my attention, is another standout and it's in this live setting that we can see quite why it was chosen as such. The mix between their alt-rock and that almost grunge distortion that they add to it works even better live and they earn their applause and even more so. Overall, the performance is further proof that their potential could lead to something bigger than where they are now.
The tour continues at The Lounge in Camden tonight (Saturday 7 March) and finishes at The Crofters Rights in Bristol tomorrow (Sunday 8 March).
All content © Über Rock. Not to be reproduced in part or in whole without the express written permission of Über Rock.