By Jonny Bakes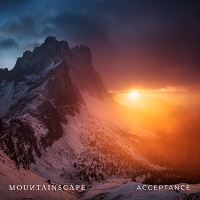 One of the things that excites me about music is that the possibilities are almost endless. While some bands may choose to keep themselves tightly constrained to a single genre or style, there are others out there who are quite happy pushing all the boundaries. This is great for those of us who have a taste that crosses a large part of the metal spectrum as it means we can often get a bit of lots of things we like: consider it a musical buffet I suppose! Mountainscape are a relatively new band to enter the boundary pushing arena with their instrumental musical journey, but will their debut album lead to an 'Acceptance' from me?
Hailing from Reading, these three guys got together to form Mountainscape after having played in previous projects and set out with the sole intention of creating something that does not stick within the bounds of any one genre. Yet somehow, the resulting 'Acceptance' still sounds like a seamless project from one band instead of suffering from jarring transitions between styles that can plague some of the more experimental bands. There's clear influences from prog metal, black metal and doom metal all thrown into the mix with plenty of other styles to make a real smorgasbord of an album. These all weave together into an epic tapestry that ebbs and flows through gentle melodies and crashing blast beats like a river into rapids. Naturally, with any band that gets into the progressive/post metal vein, you can expect each track to be a mini epic with the majority clocking in at over 7 minutes leaving plenty to get stuck into with each track.
Kicking off proceedings is 'Wilderness' which opens with a somewhat gentle guitar-picking melody that eventually heralds the introduction of the rhythm section to create a slightly foreboding atmosphere. The addition of the keys at this point further adds to this atmosphere and you start to wonder what's in store as there's a real sensation of escalation. And then, there it is, a prominent pounding drum with a muted guitar riff invokes a tense feeling and perhaps is intended to portray the feeling of being caught out there in the wilderness? It continues to be tense and brooding pretty much throughout the rest of this nine-minute epic that left me hungry for more.
It's a good thing that there's nearly an hour remaining of this piece of musicianship. I quickly found myself getting lost in the music and being taken along for the journey so I guess you could say that I accepted my fate in this. It becomes almost difficult to pick out individual songs if you're not paying really close attention as they naturally transition from one song to the next in a way that is often so subtle it's hard to notice. This makes it an album that is far more suited to listening through in its entirety instead of as isolated tracks which is certainly no bad thing in my book!
All in all, this is definitely an 'Acceptance' from me. It's an album I can see myself coming back to on those occasions where I'm in the mood for some intricate music (which is becoming more frequent). I quickly forgot that this is a debut release as well and would say that the quality of the mixing and composition surpasses my expectations for a debut album for sure! This will appeal to fans of bands such as Alcest and Russian Circles alike and is definitely something worth checking out if you've ever wondered what a post metal film score would sound like, because that's the overarching vibe of this album!
'Acceptance' is out now. You can get your copy HERE.
www.facebook.com/mountainscapeuk
All content © Über Rock. Not to be reproduced in part or in whole without the express written permission of Über Rock.