By Monk
BoJo The Clown may finally have published his much-vaunted "roadmap" towards post COVID pan(dem)ic "normality", but at least as far as the music business is concerned, any sight of light at the end of the tunnel is still the faintest of glimmers in some far-off distant future, with more shows, tours and festivals continuing to be cancelled, postponed or rescheduled for what seems like the umpteenth time. Thus, the only "normality" which those of seeking our regular fix for live music continues to exist only in the virtual world of cyberspace, via livestreamed events such as this, the latest in a weekly series brought to us by the lovely people behind the wonderful New Wave of Classic Rock Facebook group, who have continued to fly the flag for the genre, in all its forms, with these showcases of some of the finest ÜK acts around… The formula is basically the same every week, with two bands performing a handful of songs, either in full electric format or stripped back to an acoustic alternative, with each set preceded by interviews with the acts concerned.
First up for this instalment are Daxx & Roxane, the Swiss combo now based in London, who, ironically, do not feature any members with such names, as we discovered when we first encountered them at one of the HRH Sleaze shebangs in Sheffield a few years' back… After revealing to hostess Anne Estella in the rather clunkily edited interview segment that they are currently working on a new EP (the follow-up to last year's self-titled debut album), which will feature some rather unusual "rocked up" cover versions, the quartet remind us of what exactly we're missing in terms of live shows with a set recorded at the beginning of September at a place called The Yard, a purpose-built, COVID-friendly venue set up in the car park of an industrial estate deep in the heart of Cornwall, with fans sitting or standing, socially distanced, in demarcated squares marked out on the ground.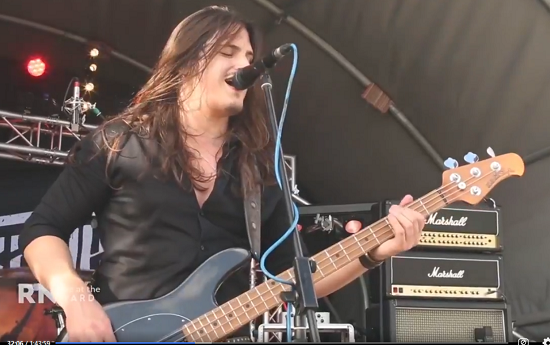 As frontman Cedric declares "fuck Corona", the band obviously made the best of a far from ideal situation (but the sort of thing which may well remain de rigeur even after restrictions are fully lifted later in the year), with as fiercely energetic a 35-minute set as they could muster in the circumstances. They were obviously very hungry to be playing in front of a live audience of any description, with guitarist Cal Wymann in particular giving it his "rock god" all for the entire duration, swinging his guitar around his head and crawling around the floor like a demented toddler. Their blues-flavoured melodic rock, with its emphasis on big choruses and earworm-generating hooks, certainly hits the spot in terms of reminding us why we love rock 'n' roll in the first place, with the only downside being that it serves to remind us how badly we really do miss the sheer joy of being at a live show… Still, as any addict will tell you, a fix is a fix, no matter how you get it…
Tonight's "headliners" come in the form of Cambridgeshire's Hollowstar, who use their interview segment to reveal why they have been deliberately quiet during the past year's various lockdowns, how they have adapted to the circumstances in which we have all found ourselves and their concerns for the continued sustainability of smaller, independent venues, urging us all to support them when it comes the time they are eventually allowed to get the live action going again…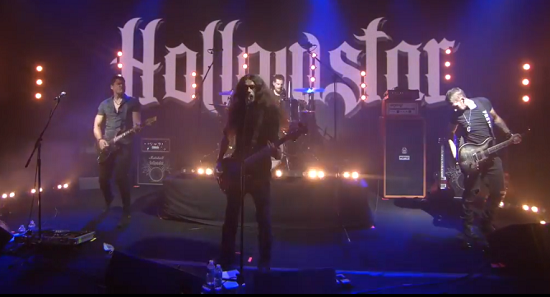 Hollowstar's set was originally broadcast as part of last summer's 'Iron Road Live' web event, but it didn't mean that the lads spared any effort, with full stage show production values applied, and then some, in terms of the video wall in front of which the quartet performed. Again, the band were obviously hungry to be performing, albeit in this case to no more than the film, lighting and sound crew required to bring us this virtual adaptation of a live gig, to which the sense of authenticity was added by early technical problems on the part of guitarist Tom Collett.
Again, the result is something of a bittersweet experience, as it reminds us both of what we are missing and what we can look forward to experiencing once more when we come out the other side of this utter shitstorm…
Well done to the NWoCR team for their continued commitment to raising our spirits in these most trying of times, and their unwavering support of both the bands and fans alike by bringing us quality broadcasts such as this, as well as other the invaluable work they do in filling our ears, and eyes, with quality rock 'n'f'n' roll… I'd buy them a beer, but the pub's still shut, so I'll just raise one in their honour instead…
The New Wave of Classic Rock Webfests continue on each Friday in March: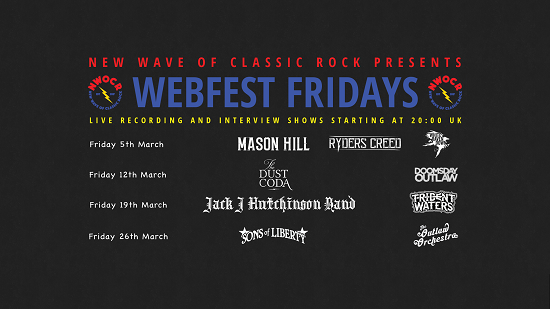 All shows start at 8pm and are free to view HERE.
All content © Über Rock. Not to be reproduced in part or in whole without the express written permission of Über Rock.