By DJ Monk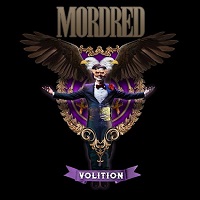 If one band truly can be described as "ground-breaking" and "innovative" it is perhaps Mordred, arguably the fore-fathers of the sound which later came to be popularized under the slightly derogatory term of "nu-metal". I say "derogatory" because the sound which Mordred created, some 15 years before the nu-metal explosion, was truly new, as well as invigorating and undeserving of such passé pigeon-holing.
For those unfamiliar with the Mordred story, you have to turn back the clock to 1984 – a time before Anthrax brought the noise with Public Enemy; before De La Rocha, Morello et al raged against the machine; and long before Fred Durst got high on chocolate starfish or Chester Bennington forsook the alt-rock scene to crawl one step closer to international acclaim; even before Body Count proved that rappers could indeed shred with the best of them. It was a time when five heavy metal musicians decided to do something a bit different from the thrash metal sound that was emanating from the Bay Area, and fuse this nascent genre with elements of funk, hip-hop and jazz, adding DJ decks to their own twin-guitar attack. Yet, after three albums and an EP, and even before nu-metal was a glimmer on horizon, it was all over for the San Francisco sextet, as they disappeared off the radar for two long, silent decades, only truly re-emerging from their extended dormancy in 2013. Now, another six years down the line, they are back with their first full set of new studio recordings in 26 years, in the shape of this four-track EP – and with the even better news that, with their creative spark most definitely re-ignited, it's a mere taster for what is to come, with a full-length album ('The Dark Parade') also in the can and due to come our way later in the year.
Kicking off with new single (only their second since 1994's 'Splinter Down') 'Not For You', it is as if Holderby, Pause and the crüe have never been away, the decks skipping and scratching between and around the sub-thrash twin guitar mien, the vocalist spitting his venomous political message and rapping his words as much as singing them. It's a feeling continued with 'What Are We Coming To', which could be construed as a pure hip-hop song, stripped completely as it is of guitars, and in the process any sense of aggression, resulting in the first of the EP's two highly disappointing middle tracks. 'Love Of Money' does see the return of the guitars, and the slightly aggressive edge, but it comes across as anodyne and almost lethargic, giving off the stench of a band merely going through the motions., rather than competing with the modern generation of crossover bands who have subsequently usurped their throne.
Rounding out proceedings is the one other song that will already be familiar to fans, as 'The Baroness' was the first recorded product of their reunion, initially released as a single back in early 2015, heralding the band's comeback in triumphant terms – something that had already been proven when they blitzed their way across the Über Kingdom the previous summer, decimating venues and laying waste to dancefloors wherever they stopped off. Its inclusion here goes some way towards restoring the feeling of disappointment aroused by the previous duotych, recalling as it does, once again, the band's former glory days with aplomb and a sense of hunger which the EP lost in its middle section.
So, all in all, a somewhat faltering comeback, at least in terms of studio output, which fails to build on the momentum of those electric live shows of just over half a decade ago. Maybe they should have followed those up sooner, and built on that sense of energy which showed that they still had the potential to still be a dynamic and relevant force in a field in which they quite rightly are held in such esteem. To be honest, it does not help to build the anticipation for the above-mentioned full-length album – but, I will be very glad to be proved wrong when it eventually comes our way!
'Volition' is released today (Friday 19 June). You can get your copy HERE.
All content © Über Rock. Not to be reproduced in part or in whole without the express written permission of Über Rock.