Chosen by DJ Monk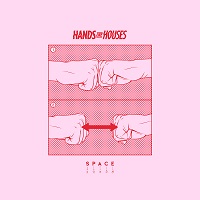 Despite the ongoing lockdown restrictions in many parts of the Überverse, we are still receiving a healthy bundle of submissions for our coveted 'Video Of The Week' title.
Our first three videos this week are all thematically linked, with their commonality revolving around the fragility of the human condition. First up we have Australian indie rockers Hands Like Houses and their plea for 'Space'. According to vocalist Trenton Woodley, the single captures a particularly mentally and spatially suffocating time for the band experience while recording, with the singer finding himself going through the motions, grappling with exhaustion, trying to push ahead ahead and ultimately feeling as though he was coming up short of others' expectations. Lyrically and sonically, the track captures a literal cry for the breathing space he needed.
"I think the song really captures that pressure we felt having to refine our raw ideas and work through our differences in taste and personality while recording," he says. "It's strange that that sense of emotional claustrophobia has fast-forwarded to this literal one with COVID-19. Since we tracked it, I haven't actually read the lyrics written down until now and there's a strange sense of deja vu, like I wrote them yesterday, with full knowledge of everything that's happened in the last few months. I wanted it to feel tired, not hopeless, worn out but not ready to give up just yet. I didn't want it to sound like I'd stopped trying. I wanted it to feel like coming out of a long silence, to say 'please be patient. I can get this right. I just need a little faith, a little trust, and a little bit of space to get myself back together'.'" 
The accompanying video draws on both the single's artwork and the lyrical themes of isolation and communication, painting a cinematic portrait of a young woman's meandering journey as she seeks to take her life in a new direction.
"Our character stops off at a couple of isolated motels which lead us into the world of the band….it all very much reflects the idea of the isolation that we've all just experienced," explained director Rhys Graham. "We also used a deaf actor to reflect the ways that separation or a different way of communicating is not necessarily a lack of freedom, it's just a different way of doing things that we are used to. That very much ties in with the emotional space in the song."
Our next video explores the nature of 'Paranoia', via the new single from Venus Furs, the monicker of Montreal's Paul Kasner, who explained the background to the song:
"I wrote 'Paranoia' as an examination of mental health, attempting to explore the feelings of depression and anxiety. The video attempts to capture the associated feelings of isolation and alienation, running after and away from yourself, and the discomfort of being alone whether in a crowd or by yourself.  Coincidentally, it was filmed just before social distancing was put into effect – a foreshadowing to the isolation we are all currently experiencing."
The video's director, the singularly monickered Hart, added: "The making of this video was a unique experience. For me, anxiety is a combustible nervous energy of caring too much about small details. At the time of shooting, I felt out of place in my home and in the world, roaming the city at night while feeling more and more isolated. We did our last night of shooting just a week before the quarantine began, with all the editing being done while the pandemic unfolded. This brought an entirely new meaning to the word isolation and the experience of anxiety and stress. This video attempts to capture all those feelings."
'Paranoia' is taken from Venus Furs' self-titled debut album, being released via Silk Screaming Records on 10 July.
The third of our triptych of thematically-linked songs addresses our inherent and inevitable mortality, as German symphonic metallers Beyond The Black remind us that we are, after all is said and done, only 'Human', on the latest single to be lifted from their brand new album, 'Hørizøns', released this past Friday via the extremely productive Napalm Records. The accompanying video has a suitably gothic noir feel which matches the melancholic yet melodic feel of the song, which itself features another stunning performance from singer Jennifer Haben:
A complete change in mood and feel for our penultimate offering, which comes from Nashville space rockers Howling Giant and their eight-bit video for the appropriately titled 'Comet Rider', the latest single from their current album, 'The Space Between Worlds', which came out last September through Blues Funeral Records. The Tennessee trio have been busy during the pandemic, doing their best to keep the riffs flowing by starting work on their next album, as well as recording a concept split album with ÜK psyche groovers Sergeant Thunderhoof, which is due to be released via our friends at Ripple Music on 7 August, and laying down two cover versions – Alice In Chains' 'Rooster' and Black Sabbath's 'Lord Of This World' – for Magnetic Eye's 'Redux' series of releases.
Our final video is a bit of a no-brainer, as it comes from the band who have released possibly the single most anticipated heavy metal album of the year to date… we are, of course, talking about Lamb Of God and their new self-titled opus magnum, which came out this past Friday – as did the fifth single to be lifted from it, which sees them grinding our 'Gears' with another beast of a track, which this time sees them turning their attention to the vagaries of modern-day consumerism and how our so-called needs are driven by the pressures of advertising and social media:
That's your lot for this week. Hope you have enjoyed the new sights and sounds we have brought to you this week. Until next Sunday, keep 'er lit, keep 'er between the hedges and #StaySafe…
All content © Über Rock. Not to be reproduced in part or in whole without the express written permission of Über Rock.