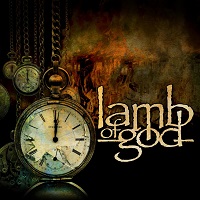 It's the perfect time for US heavy metal masters Lamb Of God to emerge from the ether. After a five-year album hiatus, they return in the midst of worldwide political unrest, dissent and controversy to reinstate their dominance. With seven albums to their name already, the fact that the new release is self-titled is indicative of a self-assured identity. Yes, they may have toured with word renowned bands like Metallica and Slayer but they are co-headliners with Megadeth this year, are also Grammy Award winners and so the five-piece of Blythe (vocals), Morton (guitar),  Willie Adler (guitar), Campbell (bass) and Art Cruz on drums (replacing  founding member Chris Adler who left citing creative differences) are themselves a phenomenon not to be ignored.  
Since the forming of the band first known as 'Burn The Priest' in 1994, Lamb Of God have accumulated nearly four million followers on Facebook. They are the feature band of metal playlists on numerous streaming sites such as Deezer's 'Metal Now' which has 80,000 listeners, Apple's 'Optimus Metallum' playlist and Spotify's 'New Metal' selection, demonstrating their popularity and reach. Yet they are more than popular, they are influential, respected and important to the genre and to their millions of fans.
Randall Blythe is increasingly forthright in interviews, although there is a taste of irritation in his replies when he is asked what it is like to tour with massive metal bands. I can see where this might come from. LOG are immense themselves, these bands are no longer on different levels, they are long term tour partners and friends. On scanning fan comments, it is clear some read his frank attitude as arrogance, but this may well be linked to assumptions about the reason Chris left. Chris left because things weren't going how he wanted them to artistically. Both he and Blythe are entitled to have feelings about this and about each other after 25 years together, what's the problem? Cruz has stepped in and by all accounts is fitting in well. He's been touring with them a while himself, as a friend and fan and having survived the litmus test of recording an album with LOG, a task Blythe himself describes as nearly always "unpleasant" due to the pressure they put themselves under, I'd say he's good to go.
'Momento Mori' opens the album, translating from the Latin as "Remember, you must die". What a fabulously ominous beginning. The second pre-album release is an example of artistic symbolism… of inevitable death. Hi everyone. The world will pay for its sins, of which there are many, through retribution. No messing about then? We wouldn't expect so. Mori begins with a glowering and doom filled melody backing despairing lyrics. What's the point if it's all going to end? Then Blythe howls 'Wake up!' and the incredible power of Lamb of God rises up and takes control, batting aside the weakness and despair and replacing it with barely controlled rage, Cruz battering the living hell out of the drums.
The initial taste of this album came a good four months ago with the release of 'Checkmate', a song that rails against the soul-destroying hypocrisy of certain political policies. Eye wateringly apt in the current climate, the relentless stream of bullshit has an impact on America that LOG label the "American Scream". Through lyrics that cut like glass you begin to identify with Lamb of God whether you expect to or not. This song will have been working on people, entering their psyche, building the anticipation for the new album.
In 'Gears', Mark and Willie take the lead, ripping their guitars to shreds in an attack on commercialism and materialistic, 'more' society. The breakdown at 2.30 is sublime "So you can't take it with you, but you don't use it now" describes the impossible task of explaining to morons that more things are never enough. Meanwhile 'Reality Bath' refuses to accept massive loss of life as the 'new abnormal', Cruz's blistering drum work sounding like automatic gunfire.
Third single 'New Colossal Hate' is described on YouTube by one fan as "The most Lamb of God sounding Lamb of God song ever" and this is where some criticism has come to play for LOG. That they are making the same song over and over again. I disagree. The minute they evolve too fast there will be criticism, but considering their current fanbase, I don't think that sounding like themselves should be a massive problem. I mean, what the fuck are you looking for? Do you want to hear LOG or do you want the sheep sacrificed because it's too much of a sheep? What are you left with then? Insert your own shit band name here. Remember that trickle of frustration from Blythe? There you go. People hate fucking everything these days. It's a sport, a shite sport at that.
Dusting themselves off, 'Resurrection Man' takes us into the second half of the album. It will be a live favourite. Growled out, head-banging brilliance. 'Poison Dream' featuring Jamey Jasta of Hatebreed is about the legacy of environmental destruction and sheer waste laid to landscapes by powerful companies in their pursuit of the dream of power. Latest release 'Routes' follows, featuring a second collaboration, this time with Chuck Billy (Testament). Chuck is Pomo Indian and his input was sought as an authentic voice because 'Routes' is inspired by issues related to the Dakota Access Pipeline Protests which were led by Native American led groups. Yes, "The truth is known but nothing's changed" and LOG are quick to anger. The sheer pace and vitriol of this track has vaporised my earbuds and Campbell deserves a mention as the bass holds the song together, adding dimension to the thrash metal.
Nearing the end of the album, the Lamb turns again and I'm suspicious about who 'Bloodshot Eyes' is about. The lyrics refer to walking away from someone who has lost their mind and struggling within about delegating them to the past. Nevertheless, the lyric "We're leaving you behind" is telling. Ouch. The finale 'On The Hook' is certainly no wind-down, but it is a well placed and prophetic song title.
If Lamb Of God doesn't have you on the hook already, they're going to reel you in, or indeed back in, with this album. It's cleverly planned, well executed and beautifully produced by Josh Wilbur.
Not for the faint-hearted. This is Lamb Of God. Follow them as they exact retribution.
'Lamb Of God' is released next Friday (19 June). You can get your copy HERE.
All content © Über Rock.  Not to be reproduced in part or in whole without the express written permission of Über Rock.