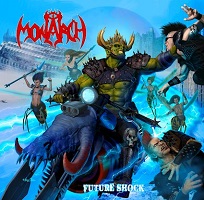 There are a few different bands named Monarch. The French version are doomsters, while Monarch from LA play 'indie electro-pop'. The album reviewed here is courtesy of four hairy blokes from San Diego who distinguish themselves online with the tagline MonarchThrash. Thank you, Lord, (or whoever). This Monarch, whose sound is influenced by the likes of Slayer and Iron Maiden, formed in 2007, released an EP in 2011 and their first album, with the apt name of 'Go Forth…. Slaughter', in 2017. Entirely self-produced they recorded much of the debut in one take, playing as they would live.
Yet the talent was already clear, From DIY beginnings, and barely two years after the album release, Monarch won the US national 'Wacken Metal Battle' guaranteeing them a spot at the 'Wacken Open Air Festival', Germany where they could perform in front of 86,000 people and beside the likes of Anthrax, Slayer and Parkway Drive.
Given the doors that their debut opened for them, Monarch have inevitably begun to evolve as a band. For one, there appears to be less of a gap between recordings this time (a sprightly four instead of six years) … perhaps, despite their numerous other commitments, Monarch wants to capitalise on their recent success. 'Future Shock', although also self-released, was carefully constructed and produced in a professional studio; Clarity Recordings, California. Their cover work was drawn by metal fan and prolific illustrator Marc Sasso (Dio, WoW, MTV).
In saying that, the first track 'Blast The Seed' was written in an hour at, ahem, band practice. Maybe that's why there's only four years between albums one and two. Tour, first album, Wacken, oh best find a studio, Covid mayhem, blah blah, five minutes in the studio, album two. It's a dramatic entrance for the album as the show opens. Once the speed increases, immediately noticeable is the skill of the guitar interplay between Matt Smith (vocals/guitar) and Casey Trask (guitar). Their experience speaks clearly: Trask also plays for The Three Tremors, Cage and is part of Kiss tribute band Kissed Alive and Smith for Nihilist and Damcyan. About blasting new life into distant civilisations, there's a clear connotation here.
I'm impressed by Monarch's sound, so I check their YouTube and am surprised they have had so little attention. Hmm (*holds chin). Maybe it's because they're geeks? 'Khaos Warrior', written by Matt, is about the Tournament of power in Manga based TV series/videogame Dragonball Z. This track is defined by the chugging bassline and rasping vocals. Over quickly, one of the highlights is how they make the guitars sound like gaming sound effects.
Title track 'Future Shock' is based on the TV series Futurama… (I've made my point). About being cryogenically frozen and then emerging into the future. There's a bit of the Terminator storyline woven in here too to my mind ''… robot alien warfare… lost in time forever''. This is what Monarch does so well: music, fantasy lyrics and imagination create a movie soundtrack in your mind. I confess to being a bit of a geek myself.
On to 'Nuclear Warfare' written by Smith as part of his classical music degree. This was only just released as a single to promote the upcoming album release. The vocals on this one are particularly unabated and growly. Students, eh? In the middle is the single 'Shred Or Die'. Other than a glorious example of heavy metal, this track speaks about the attempted domination of minorities and civil unrest. The accompanying video has been pegged as 'controversial' because it highlights the Black Lives Matter protests and riots alongside skateboarding in San Diego. See it as it is, America is simultaneously as beautiful as it is ugly.
There's a break here in the form of 'Multiverse' where we hear some impressive classical style guitar from Smith, melded with metal of course. It aids the visualisation of floating in deep space and leads nicely into the next track, one of my favourites. 'Fatal Vector' is full of whining guitar and staccato drum beats. It's the rhythm that gets you and West (drums) and Mendez (bass) take their turn to shine. 'Collision of Bones' is a close second for favourite, its brutal fervency stirs the soul. It was written by and features ex-bassist Alex Pickard. Unfortunately, that means it probably won't get much airing live and that, well that's a terrible shame.
Then comes 'Swarm Of The Whorenet'. If you look at the album artwork you will see the, ehm 'Warrior Whore Hornets' chasing after the hero. A song immersed in fantasy it speaks to the imagination and creativity of Monarch which spans music, art and fantasy. Monarch leaves you with 'Metal Soul' a power metal blast with lyrics about the Legend Of Zelda ''Master Sword''. A wee (figuratively) phallic symbol dropped in there at the end as a demonstration of their dominance in thrash metal.
What a journey, from games worship to outer space to political controversy to whorey warriors, from mesmerizing classical guitar to thrash metal. There are even some synthesised sounding beats thrown in for good measure. 'Future Shock' is a true showcase of the range of Monarch's technical ability.
This band is definitely under-appreciated at the moment. There's too much technique and flair here for them to be flying under the radar. Monarch are perhaps too often written off as pretenders to bigger bands but they aren't pretending. They are owning their genre.
'Future Shock' is released on Friday (16 April). You can get your copy HERE.
www.facebook.com/MonarchThrash
All content © Über Rock. Not to be reproduced in part or in whole without the express written permission of Über Rock.