By Jim Rowland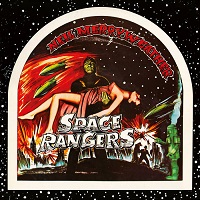 Every now and then an obscure nugget from rock's rich history will pop up on reissue that will pique your interest and curiosity, regardless of whether you know much, or anything, about the artist. Such is the case with 'Space Rangers', a 1974 album from Canadian maverick Neil Merryweather, a cult classic given a long overdue reissue this week. So, strap yourself in and prepare to explore Neil Merryweather & the Space Rangers' weird and wonderful world of glam space prog…
In fact, it's correct to add a healthy dose of hard rock and a smattering of funk into the mix too on this space-themed concept album with a cover like a poster for a fifties sci-fi horror film. The smattering of funk is most prevalent on a radical re-working of Donovan's 'Sunshine Superman', so radical it renders it almost unrecognisable aside from the lyrics. Similar radical treatment is also given to an excellent cover of the Byrds' 'Eight Miles High', which turns the psychedelia up to 11 on this version. 'Neon Man', 'Escape' and 'High Altitude Hide'n'Seek'  take a powerful, grooving and heavy hard rock approach, whilst the likes of 'Hollywood Blvd', 'King of Mars', 'Road To Hades', the soulful 'Step In The right Direction' and the closing epic 'Sole Survivor' head more in a mellotron-soaked progressive direction, but still with a powerful punch.
There's some T-Rex, some Bowie and definitely some Todd Rundgren in here. At times I can also hear a blueprint for what Big Elf went on to do decades later. It all adds up to a quite wonderful album, and a true gem if you're prepared to dig deep enough.
'Space Rangers' is available on a limited run of coloured and black vinyl (with a bonus 7" of previously unreleased tracks), digipak CD, cassette and download. It's also issued alongside the follow up to this album, 'Kryptonite', which was released the following year in 1975, but sadly wasn't available for review here. On the strength of this golden nugget, that's an album I will most certainly be seeking out too. If this kind of thing is your bag, so should you.
'Space Rangers' is released on Thursday (15 April). You can get your copy HERE.
www.facebook.com/NeilMerryweatherSpaceRangers
All content © Über Rock. Not to be reproduced in part or in whole without the express written permission of Über Rock.