By Monk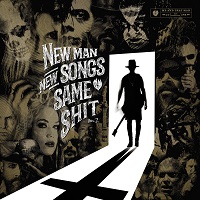 For those unfamiliar with the concept – and, if you're not, where the feck have you been hiding for the past few years – Me And That Man is a sort of "alter ego" project from Adam 'Nergal' Darski which has seen him explore a much darker, and defiantly more personal side, of his artistry than the pure black metal limitations of Behemoth have allowed him to do. Now, Darski has never been a man to compromise. In his 25 years as the frontman of Behemoth, one of the most iconic, confrontational and innovative extreme metal bands not only of their own but any generation, he has never backed down from a fight. He has taken on leukaemia – and beaten it. He has taken on the Polish government – and beaten it. He has taken on the critics, and beaten us, consistently. He has stood on the precipice, and jumped wholeheartedly into the abyss below, confident in the knowledge that he will both survive and prevail.
In 2017, he confronted every preconception about himself with MATM's bold and striking debut album, 'Songs Of Love And Death'; it was a release which defied everything everyone thought they know about the man, and which stood proudly as a statement of his personal defiance, his continual desire to be the man that he wants to be, and knows he can be, answerable to no one but himself. Now, he has returned to that fight with the highly aptly named 'New Man, New Songs, Same Shit, Vol. 2', – the follow-up to last year's first 'NMNSSS' collection, which saw him not only explore his love of Americana, country, blues and murder ballads, as well as multiple other cross-genre sounds, including industrial punk and noiserock, but also collaborating with artists as diverse as Corey Taylor, Brent Hinds, Ihsahn, Rob Caggiano, Nicke Anderson and Matt Heafy.
Once again exploring the same gothic noir terror-tory inhabited by the souls of Cohen, Cash (at least in his later years), Cave and Waits, ''NMNSSS2' continues, more or less, where its predecessor left off, in that it sees Nergal taking somewhat of a back seat and corralling a host of guest singers to take over the lead vocals. These include the likes of Hank Von Hell, Blaze Bayley, Randy Blythe, Alissa White-Gluz, Myrkur, Kristoffer Rygg (Ulver), Olve 'Abbath' Eikemo and Michale Graves. But, as if some of these names weren't hints enough, other guest appearances by the likes of Exodus/Slayer guitarist Gary Holt and 'Mr Prog Metal' himself, Devin Townsend, indicate that '… Volume 2' may well be a much heavier prospect than the first edition of the duotych.
And, in some ways, that is the case, but as the likes of 'All Hope Has Gone' demonstrate, Darski has the ability to turn preconceptions on their head as he draws on the darkest recesses of the souls of his contributors. As might be expected from the first two volumes of the MATM canon, he never strays too far from the objective of presenting multiple different daguerreotypes of himself: 'opener 'Black Hearse Cadillac', for example, draws upon his unrequited love of early-70s Alice Cooper, the likes of 'Under The Spell', 'Witches Don't Fall In Love' and the brilliant 'Year Of The Snake' continue the death-country mien he explored so effectively on the first two outings, while ''Losing My Blues' and 'Got Your Tongue' are soaked in the spirit of punk 'n' roll, with Abbath's vocal on the former really evoking of spirit of Lemmy to spinetingling effect.
By contrast, Darski also proves that he can pull the most surprising performances from his collaborators. 'Goodbye' is a prime example, with a haunting, almost operatic vocal from Alissa White-Gluz.
Once again, each of the guest contributions undoubtedly helps to add to the depth and width of 'New Man…2', helping to make it another work of sublime, eccentric genius from Darski. When an artist steps out of the sphere for which they are known and in which they have been so successful, they should do so with a determination to prove that they can do something completely different. Darski, for the third time in succession, has done just that, turning his Picasso to the works of Da Vinci.
'New Man, New Songs, Same Shit Vol 2' is released on Friday (19 November). You can get your copy HERE.
www.facebook.com/meandthatman/
All written content © Über Rock. Not to be reproduced in part or in whole without the express written permission of Über Rock.