By Monk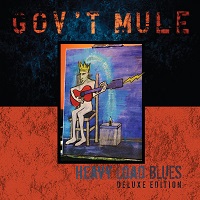 The Covidications of the past 20 months or so have caused a lot of people, including – or maybe especially – musicians, to re-evaluate themselves and their priorities, and also to revisit aspects of their lives which perhaps had become lost in the hectic hurdy-gurdy of everyday life as it was before things ground to a sudden and traumatic stop. For many artists, this cessation of normal activity also presented an opportunity to explore different aspects of their canon – which is probably why we now find ourselves presented with the first pure blues album in the 25+ year career of Warren Haynes and Gov't Mule.
Although the blues has always been at the core of Haynes' trademark sound, it here finds its full extrapolation with a combination of original songs and his unique take on a series of blues standards – and a few not-so-standard diversions as well. The latter include a mashed-up version of Junior Wells' 'Snatch It Back And Hold It' (which comes complete with an improvised middle section jam), an impassioned rendition of 'Ain't No Love In The Heart Of The City', a brooding interpretation of Tom Waits' 'Make It Rain' and an acidic take on Howlin' Wolf's 'I Asked For Water (She Gave Me Gasoline)'.
Of the original pens, nominal title track 'Heavy Load' is a mournful, laconic acoustic number which is effective in its simplicity, the basic structure both denying and emphasizing the song's basic power, while 'If Heartaches Were Nickels' is a swelling, organic seven-and-a-half minute workout that melds jazz and soul into the blues mix with alacrity.
In the best tradition of the blues, and in keeping with Haynes' lifelong approach to jamming things out and seeing how they end up, 'HLB' was recorded live in the studio, using vintage equipment and analogue tape, all of which help to add to the richness and authenticity of the finished product, which in turn is accentuated by the wonderfully sympathetic production of Haynes and John Paterno.
The 'Deluxe Edition' features a mammoth 30 tracks, although nine of these are alternative/edited/extended versions of the songs of the "standard" edition; however, there are an additional six studio recordings and two live tracks which make it worth forking out those extra few quid for the upgrade.
'Heavy Load Blues' is out now. You can get your copy HERE.
All content © Über Rock. Not to be reproduced in part or in whole without the express written permission of Über Rock.