By Monk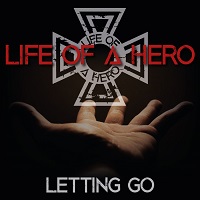 The ÜK's melodic rock scene has always been able to stand toe-to-toe, nose-to-nose with its US and European counterparts, something which has been emphasized by the emergence of the NWoCR scene over the past decade of so, which has seen the spotlight very firmly shone on the sheer volume (sic) of domestic talent which exists right here on our doorstep…
It should be no surprise that the wonderfully named Life Of A Hero are the latest AOR-tinged act to throw their hats into the ring (sic), and do so with an aplomb and confidence that belies the fact that this is their debut album. That is because the quintet features members of (relative) scene veterans Midnite City and Vega and is fronted by a man whose pedigree speaks for itself, in the form of the elegant (vocally at least) and eloquent Russ Grimmett: older ÜR readers should most definitely be aware of his dad, Steve, a genuine legend in his own lunchtime thanks to his tenures with Lionheart and, most especially, NWoBHMers Grim Reaper.
'Letting Go' draws on the ÜK's rich AOR heritage, drawing on the sounds of the likes of Shy, Tobruk and Ten as much as it does the bands from whom some of its producers are drawn. Inevitably, of course, there will be comparisons with the nation's biggest proponents of the genre, but, despite their length in tooth, LOAH possess a hunger and passion which da Lepps lost many moons ago. There is an underlying edge to their sound that countermands the glossiness of the likes of FM, taking them more into the sort of classic blues rock territory inhabited by NWoCR champions such as Wayward Sons.
'Letting Go' is a declarative debut from a group of musicians who clearly know their business inside out and backwards, but also have the passion to give it their all without sounding staid or overly polished but instead imbue every ounce of their individual and collective emotions into producing the best music possible. And, in that, they have exceeded themselves.
'Letting Go' is out now. You can get your copy HERE.
www.facebook.com/lifeofaherouk
All content © Über Rock. Not to be reproduced in part or in whole without the express written permission of Über Rock.