By DJ Astrocreep
Despite only getting home at 6.30am from the previous days shenanigans of the Judas Priest and David Ellefson collaboration in Wolverhampton and being pretty goddamn tired still after that 21 hour day, there was no way I was going to pass up the opportunity to catch prog legends Marillion just up the M62 in Manchester, especially in such a venue as the Bridgewater Hall, a venue known for its acoustics and set up for incredible clarity of sound, never mind that they have orchestral backing too! Guitar wankery ahoy!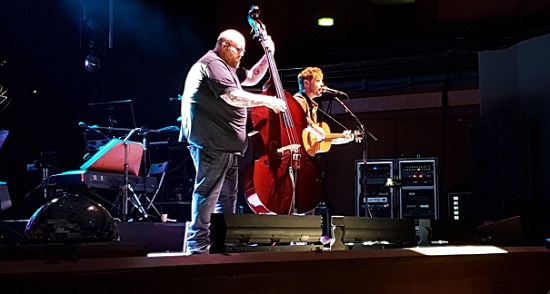 Our support for the evening is Harry Pane, who seems to be regular tour support for them now, given he was doing the same when I last saw them in Manchester Academy two years ago, though he this time has a friend playing a dobule bass alongside him. His music is an attractive singer-songwriter fare which works better in an environment such as tonight's surroundings than it did in the Academy previously, mainly due to the acoustics and set up of the venue lending itself much better to it. He is a skilled guitarist, shown optimally when he covers Fleetwood Mac's 'Big Love' early in his set which works well both for the rest of the crowd as for myself, despite me usually being somewhat blasé about like for like covers. He is clearly comfortable with himself and his music as he chats on the mic, introducing the next song as he retunes his guitar at the same time, with a couple of the introductions and songs ringing enough bells to know I remember them from seeing him previously. His own songs are well structured and quite enjoyable, lending credence to continuing in support of a band the such of Marillion.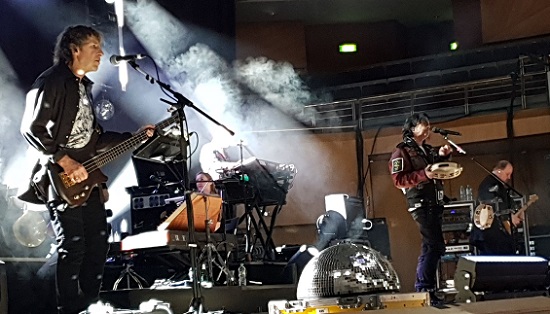 So, on to our headliners for the evening and H is in fine form from the off. It's a two hour 20 minute set which garners us 15 of their finest tracks – well, they are a prog act! I find myself at times just closing my eyes and letting the music carry me, especially so during Steve Rothery's notable solos and guitar wankery, performed in exquisite manner, with H being his usual impish and mischievous self as he seems to struggle with taking things seriously while he is otherwise unoccupied, which is actually great to watch as it reveals a lot about both himself and camaraderie in the band that even as such serious musicians, that sense of fun is still very much present. The crowd are up for everything, with a partial standing ovation greeting the end of some tracks, never mind the end of the set, with their attention rapt throughout.
H has a special connection with the fans, as seen by his joking mocking of everyone at times in what is a very endearing performance from him, while the rest of the band concentrate solely on their respective instruments and providing us with the fantastic musicianship that the whole band are renowned for. The addition of the several orchestral members provides a mixture of even extra depth to their already top notch live sound and to provide something a little bit different from their usual manner of reproducing their work live, with it fitting extremely well and layered perfectly to enhance but not cover the rest of the band.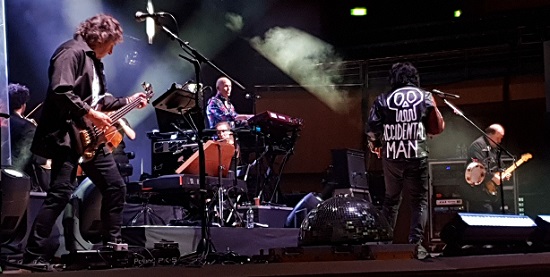 The setlist is heavily comprised of the 'Fuck Everyone And Run (F.E.A.R.)' and 'This Strange Engine' albums, with them comprising basically half of the set and a double encore that looses very few people that you can often see leave after the band takes an encore break, confused by there being more than the 1 stage departure. We have time for the four 'The New Kings' parts in order, while there is also space for the likes of 'Estonia', 'Afraid Of Sunlight' and 'The Great Escape' in the main set, with 'Zeperated Out' – the name changed by the band on the setlist to reflect the excerpt of 'Kashmir' by Led Zeppelin that we get in the middle of it – closing the first encore, while the second comprises of 'Man Of A Thousand Faces' and 'This Strange Engine' – a very fitting way to finish what has been yet another extraordinary gig from the neo-progressive veterans.
The tour continues with a sold out show at The Forum in Bath tonight (Saturday 9 November) and then as follows:
Sunday 10 – Oxford, New Theatre
Tuesday 12 – Glasgow, Royal Concert Hall
Wednesday 13 – Gateshead, The Sage
Friday 15 – Southend-on-Sea, Cliffs Pavilion
Saturday 16 – Cardiff, St David's Hall
Monday 18 – London, Royal Albert Hall
Tuesday 19 – London, Royal Albert Hall
www.facebook.com/MarillionOfficial
PHOTO CREDIT: Photos by the author.
All content © Über Rock. Not to be reproduced in part or in whole without the express written permission of Über Rock.