By Rich Hobson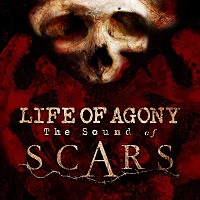 Now in their 30th year as a band, you can forgive Life of Agony for getting a little nostalgic on 'The Sound of Scars', their second release since reforming in 2014. Casting minds way back to 1993, the band have opted to create a sequel to their 1993 debut 'River Runs Red', taking the themes of alienation, abuse and suicide and running with them even further on 'The Sound of Scars' to flesh the story out more. But why now? Well, first and foremost, because this is a band that has evolved and grown in the past 26 years – this latest release isn't just a re-tread of old grounds, but a re-examination brought about by immense personal change, taking the idea of an alienated teen and flashing forward a quarter century to deal with the scars left behind.
This narrative is driven home not just in the lyrical content of the songs, but through frequent skits and scenarios that expand the narrative out, aptly opening with the sounds of paramedics tending to "a female with slit wrists" as the sounds of dripping taps can be heard in the background. Learned LoA fans will recognise this as a direct continuation of the closing moments of 'River Runs Red', dropping us right back into the narrative where we previously left out as if no time had passed at all. These motifs are (at times, at least) a clever way to bring it all back and remind the listener that more than just a collection of songs, Life of Agony are telling a story with this latest release. Unfortunately, it can also be distracting at times, sound effects like wailing sirens detracting somewhat from the blasting opening riffs of lead single 'Scars', blaring away while all we really need to hear is the song itself.
While they might be looking back at 'River Runs Red', Life of Agony still remain largely in the same sonic territories as comeback record 'A Place Where There's No More Pain' for this latest release. The band's earlier hardcore-adjacent tendencies are almost completely gone for 'The Sound of Scars', replaced by the heavier-edged alt metal sound favoured by many other '90s alt bands that have survived the new millennium by adapting and redefining. Showing that 'radio-friendly' needn't be synonymous with 'toothless', Life of Agony sound heavy as ever, mixing muscular riffing and anthemic choruses to lodge songs right between the ears, 'Scars' and 'Blackheart' possessing an addictive quality that harkens back to when band's could rule the radio with the right chorus. It doesn't hurt that Caputo has a great ear for slick vocal melodies, turning even the most abrasive elements of the record into something you'll hum (and sing) along to incessantly. It's testament to Caputo's songwriting skills that she is able to tackle such heavy subjects in a way that turns them into disenfranchised anthems for the masses.
It takes a few listens to truly get into the headspace to follow this record seamlessly but given time to take root you'll struggle to not get swept away in the band's pace. So far as picking stand-out tracks goes, its hard to really single out any of the songs on 'The Sound of Scars' as being a go-to single; after all, opening single 'Scars' delivers deliciously heavy beatdowns, but does that necessarily translate better than the more frantic approach of 'My Way Out' or 'Eliminate'? Its all subjective.  Of course, this does also suggest that Life of Agony have opted to stick to comfortable sonic niches – ironic considering the discomfort the lyrical themes suggest. But then, in a case of "if it ain't broke, don't fix it", what Life of Agony do is often replicated (particularly in the sonic turns of fellow Brooklynites Silvertomb and King Destroy), never bettered. Even when stood side by side with their closest contemporaries (which to my ear is Alice in Chains – a 90s alt band that also came back with a heavier, more metallic sound when they reformed), it feels like Life of Agony can offer more of the goods that made them vital in the first place, something front and centre on this latest release as the band pour heart and soul into creating something which feels like a testament to how far they have come, inviting every listener to sing-along at full blast on every single track.
'The Sound of Scars' is a declaration of identity for the Life of Agony of 2019. Growing from the motifs and themes of the past, the band acknowledge where they have come from whilst striving to go bigger still, reaching high and pulling together a great collection of tracks in the process. Quite what this bridging of generational gaps will do for the band is anybody's guess at this point, but long-time fans of the band can rest assured that they are still delivering the goods 30 years on from inception, still refining their sound and redefining exactly who they are to ensure they never get left by the wayside.
'The Sound of Scars' is released on Friday (11 October). You can get your copy HERE.
Life of Agony play the following dates later this month, with support from Doyle:
Tuesday 22 – London, Islington Academy
Wednesday 23 – Southampton, Engine Rooms
Friday 25 – Birmingham, 02 Institute
Saturday 26 – Manchester, Club Academy
Sunday 27 – Leeds, Brudenell Social Club
www.facebook.com/lifeofagonyfamiglia
All content © Über Rock. Not to be reproduced in part or in whole without the express written permission of Über Rock.